DEVOLUTION CONFERENCE
North-South Relations after the Boom: The Impact of the Credit Crunch on Mutual Relations and Understandings
Newman House
2 April 2009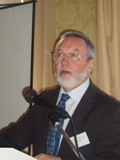 Tony Kennedy speaking at the Devolution Conference
The 1998 Belfast Agreement was heralded as a 'new beginning', an agreement that would end decades of political instability and sectarian violence. A strengthened equality programme, a new public culture, reform of the police and justice systems, decommissioning and demilitarization changed the context of everyday life. Institutions to promote human rights, equality and political inclusion and to encourage North-South and East-West cooperation - the Human Rights Commission and the Equality Commission as well as the North-South Ministerial Council and the British-Irish Council have operated continuously since 1999, throughout successive suspensions of the devolved power-sharing Assembly. Other institutions, like the Civic Forum, were suspended along with the Assembly and have yet to resume operation. The executive itself has a potentially exemplary role, showing the possibility of one-time enemies working together.
The conference explored the extent to which ten years of devolution has changed everyday experience, daily relations between Protestant and Catholic, unionist and nationalist, and the aspirations of ordinary people. Has the decade-long transition from conflict improved community relations, reduced sectarian division and offered new opportunities for improved North-South and East-West cooperation? What incentives will encourage more of the public to avail of these opportunities?
Themes addressed included:
The impact of the institutions on daily life: new forms of practice? Old forms of interrelations?
Changing attitudes, changing aspirations, changing modes of participation.
Comparative perspectives, ways forward
The conference was made possible by part-sponsorship by the Irish Research Council for the Humanities and Social Sciences in the context of their visiting fellowship programme.
Working papers from the conference (Nos. 84-89) can be accessed here
Image Gallery - Click on each image to enlarge