IBIS ANNUAL CONFERENCE 2011
North-South Institutions and Cross-Border Relations: Commemorating Opportunities and Achievements
John Hume Institute for Global Irish Studies, UCD
Thursday, 26 May 2011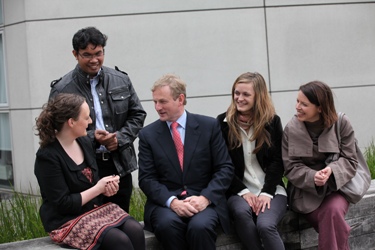 An Taoiseach, Enda Kenny with (l-r) UCD students: Susan McDermott, Thitiwut Boonyawongwiwat, Jennifer Jackson and Melanie Hoewer.
An Taoiseach, Enda Kenny, TD, provided the keynote address at the IBIS annual conference. To view the full content of the Taoiseach's speech click here.
Other speakers and chairs were: Paul Arthur (University of Ulster), Anne Barrington (NSMC), John Barry (Queen's University Belfast), Mary Bunting (NSMC), Dominic Bryan (Queen's University Belfast), Tony Craig (Staffordshire University), John Doyle (Dublin City University), Paul Gillespie (University College Dublin), Susan McKay (National Women's Council of Ireland), Tim O'Connor, Sean O hUiginn, Andy Pollak (Centre for Cross-Border Studies) and Senator Susan O'Keeffe.
To view the conference programme click here.
To view comments by Sir George Quigley click here.
Conference Papers / Presentations
Sean Farren: Three Councils and Whither Unity
Anne Barrington and Mary Bunting: North South Ministerial Council
John Barry: Green Politics and the Transition to a Low Carbon Economy on the Island of Ireland: Prospects in Post-Tiger and Post-Conflict Contexts