IBIS EVENING LECTURE SERIES 2011
Colloquium on Loyalism
Ulster Museum, Belfast
Wednesday, 5 October 2011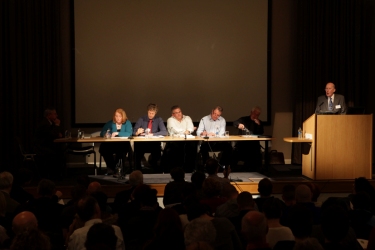 From l-r: Naomi Long, MP; Dr Duncan Morrow; Dr Peter Shirlow; Frankie Gallagher; Sammy Douglas and Sir George Quigley (chair)
As part of the IBIS Evening Lecture Series, part-funded by the Department of Foreign Affairs' Reconciliation/Anti-Sectarianism fund, IBIS hosted a Colloquium on Loyalism at the Ulster Museum, Belfast on Wednesday, October 5 2011.
The unrest evident in Loyalist areas during the run up to this year's Twelfth celebrations surprised many in the media but not those who have been conscious of a growing sense of drift and marginalization in that community. Some have pointed to political disillusionment, others to growing social and economic impoverishment and the accumulated effects of a decline in the community's sense of identification with the state and its institutions. Many insiders believe this results from unevenness in the original Belfast and St Andrews Agreements and some believe that we are experiencing another shift in the Peace Process: one that may be positive but also painful.
Chaired by Sir George Quigley and with a research overview by Dr Michael Anderson (IBIS), the panel - Sammy Douglas, MLA; Frankie Gallagher; Naomi Long, MP; Dr Duncan Morrow and Dr Peter Shirlow - discussed the challenges facing loyalist communities today.
For panellist biographies click here.
For Welcome Address by Sir George Quigley click here.