IBIS/STRATAGEM SEMINAR
Patterns of Conflict Resolution: How to Draw Lessons from Northern Ireland
Linen Hall Library, Belfast
Thursday, 2 December 2010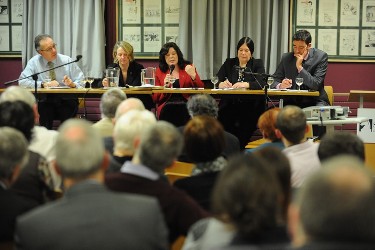 From l-r: Quintin Oliver, Jennifer Todd, Dawn Purvis, Bronagh Hinds and Jim Fitzpatrick
This seminar was initiated to build on findings from the 'Patterns of Resolution' research project. The aim of the seminar was to take the initial findings of the research project and use them as a basis for discussion as to how lessons can be learned and shared with other conflict areas.
Speakers included: Jim Fitzpatrick (BBC) as chair; Bronagh Hinds (DemocraShe); Quintin Oliver (Stratagem); Dawn Purvis, MLA and Jennifer Todd (UCD).
IBIS funding for the event came from the Irish Research Council for the Humanities and Social Sciences, the Conflict Resolution Unit of the Dept of Foreign Affairs and the Dept of Foreign Affairs' Reconciliation Fund.
---
This project builds on research conducted at IBIS on the succession of attempts at conflict resolution in Ireland and Northern Ireland. It uses the Northern Ireland case as a benchmark for comparative sstudy. It builds on existing networks and collaborative partnerships in choosing cases such as Macedonia, the African Great Lakes, the Cote d'Ivoire and the Mindanao region of the Philippines - comparing the succession of attempts at conflict resolution (failed and successful) within each case in order to show the processes which favoured success. It compares these processes between cases to identify the range of patterns of conflict resolution. Rather than applying an Irish model to these cases, the aim is to develop a repertoire of the mechanisms and processes which are combined in different sequences in different forms of conflict and conflict-resolution.
---
Stratagem is Northern Ireland's first dedicated lobbying company. Founded in 1998, after participating in the GFA Referendum campaign, its team collectively brings 75 years' experience of politics, policy and campaigning from Belfast, Dublin, Westminster, Brussels and Washington. Stratagem's peace and conflict resolution work has taken them and N. Ireland politicians to Baghdad, Kosovo, the Middle East and Colombia.
Image Gallery: Click on an image to enlarge