DIRECTOR OF POLICY, UN WOMEN, SARASWATHI MENON
UNSC Resolution 1325 and the Work of UN Women
Research Boardroom, UCD Research Building
Thursday, 25 October 2012
3.00 - 4.00pm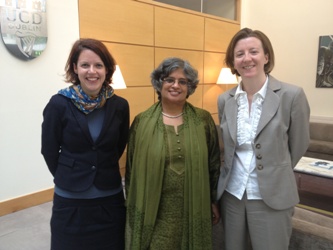 From l-r: Dr Melanie Hoewer (IBIS) with Ms Saraswathi
Menon and Dr Catherine O'Rourke (Transitional Justice
Institute
IBIS, with the University of Ulster Transitional Justice Institute, jointly hosted Director of Policy, UN Women, Ms Saraswathi Menon at UCD on Thursday, 25 October 2012. Ms Menon presented on the topic 'UNSC Resolution 1325 and the Work of UN Women'.
---
Conference Podcast
Audio will play here
---
Ms Saraswathi Menon is currently the Director of the Policy Division in UN Women, the new United Nations Entity for Gender Equality and the Empowerment of Women.
She was formerly Director of the Evaluation Office in the United Nations Development Programme and the elected Chair of the United Nations Evaluations Group that brings together the heads of evaluation of all UN organizations.
She was a member of the team of authors who wrote the first six Human Development Reports.
Subsequently she worked on UNDP programmes as Deputy Chief of the Regional Programme in the Regional Bureau of Asia and the Pacific, UNDP Deputy Resident Representative in Nepal (1999-2000) and as UN Resident Coordinator and UNDP Resident Representative in Mongolia (2000-2003).
Prior to joining UNDP she taught sociology in Madras University in India. She has a Ph.D. in Sociology from Jawaharlal Nehru University in New Delhi. Her Ph.D. dissertation was on caste and land control in Thanjavur district during the nineteenth century, and she continues to be interested in multi-dimensional issues of poverty.
IBIS wishes to acknowledge the support of the Dept of Foreign Affairs and Trade