Sir George Quigley RIP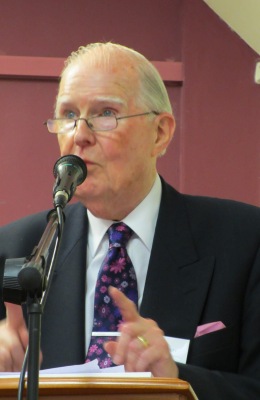 It is with great sadness that IBIS has learned of the death of Sir George Quigley at the age of 83. Sir George was Chairman of the board of IBIS from 2006-2012 and served in exemplary fashion throughout that time. He was extremely active in advising on strategy, negotiating funding and providing distinction in his attendance at, and introduction of, IBIS events.
Sir George had a major public role in civil service and business, and indefatigably promoted peace and cross-border linkages. To his work in the economic field – beginning with the promotion of the Dublin-Belfast economic corridor and continuing to the present – was been added active involvement in higher education with the aim of opening the newest research to a wider public, and hands-on involvement in negotiating with loyalists. He moved with ease and grace between the highest circles of government and business, to participation in academic debates to negotiation in working class communities. He has played a very major role in the improvement of North-South relations. He strengthened and supported IBIS as Chairman of the board over seven years, giving a major commitment to the task.
His presence, unfailing courtesy and insightful contributions will be sorely missed.
Biography
Sir George Quigley obtained a PH.D. in medieval ecclesiastical history from Queens University, Belfast. Entering the Northern Ireland Civil
Service he was Permanent Secretary, successively, of the Departments of Manpower Services, Commerce, Finance, and Finance and Personnel. In 1989 he became Chairman of Ulster Bank. He also served on the Main Board of Nat West and as Chairman of the Royal Bank of Scotland Pension Fund. His roles in public life in Northern Ireland included Chairmanship of the NI Economic Council and the Royal Group of Hospitals and conduct of a Review of the Parades Commission. In the Republic he was President of the Economic and Social Research Institute. Other appointments included the Chairmanship of Bombardier Aerospace Northern Ireland and of Lothbury Property Trust. In 2006 he became Chairman of the board of the Institute for British-Irish Studies, UCD and held that position until 2012. In 2009 he was elected a Member of the Royal Irish Academy.