UNSCR 1325 INTERNATIONAL SEMINAR
Impact and Innovation: UNSCR 1325 in Ireland and Globally
Friday, 5 April 2013
Mansion House, Dublin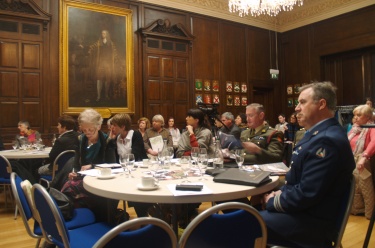 The Institute for British-Irish Studies (IBIS) organied an international seminar titled 'Impact and Innovation: UNSCR 1325 in Ireland and Globally' on Friday, 5th April 2013 at the Mansion House, Dublin.
The aim of the conference was to look at new approaches to women, peace, and securityat international, regional and national levels. Lessons learned from the Irish experience of implementing UNSCR 1325 were explored as well as its impact and synergies on international organizations and on developing multi-leveled approaches to women peace and security.
Some key questions the event addressed were: What impact does UNSCR 1325 have on building a more equal society and on developing a concept of sustainable conflict resolution? And what do national processes tell us about opportunities and challenges to further develop International strategies to promote women, peace and security?
The seminar brought together representatives from international organizations, practitioners, policy-makers and academic experts on women, peace and security.
We are proud to be part of an international movement to promote awareness and activism on the topic of Women Peace and Security. It is our hope that this seminar will benefit practitioners and policy makers involved in this area and further the cause of international understanding on sustainable peace at both global and national level.
For YouTube Videos of the various speakers click here
To hear a Cloud audio of the presentations of Erika Svedberg and Ruth Jackson click here


This project is co-funded by the Conflict Resolution Unit in the Irish Department of Foreign Affairs and The Irish Research Council.