Women and Peacebuilding Seminar
Women and Peacebuilding: A Challenge for Collective Action
Wednesday, 6th March 2013
Queen's University Belfast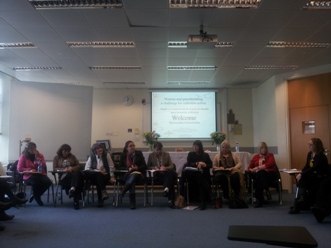 ‌
An international seminar on women and peacebuilding was held at Queen's University on 6th March 2013 in partnership with the Institute of Irish and British Studies of University College Dublin. The event brought together women activists from Colombia and Northern Ireland, post graduate students and the wider women's sector in a cross country dialogue about peacebuilding and women's collective action. The women's organizations invited for this event were: The Colombian National Women's Network (La Red Nacional de Mujeres), Colombian Women's Peace Initiative (Iniciativa de Mujeres Colombianas por la Paz), The Women's Popular Organization (La Organización Femenina Popular), The Centre for the Promotion of Culture and Solidarity for Families (Centro de promoción y cultura y familias solidarias). There were also representatives from Women's Information Northern Ireland, The Women's Support Network, Windsor Women's Centre and Falls Women's Centre.
During the event participants engaged in a discussion about dynamics of the conflict in theses regions, how the conflicts have affected women's lives and how women's organizations practices are informed by such experiences of conflict. The speakers also exchanged advice on how to unite women at a grassroots level focusing on women's common issues and needs and how to go beyond the local to promote more effective political influence in policy making. Students and participants from the women's sector had the opportunity to ask a range of questions about the challenges these organizations faced and how they see the future. The session concluded with a question to all the participant about their own aspirations in relation to women and peacebuilding. Some responses mentioned the need in Northern Ireland to have a Women's Council in an specific government department that can advance a women's agenda in political and decision making structures. Others pointed out the need for Colombian women to get a consensus within the women's movement on a basic agenda to present in the current peace talks between the government and the guerrillas.
The organization of this seminar was possible thanks to the support and funding provided by Queen's University Postgraduate student led initiative, Queen's University Centre for the Advancement of Women, Queen's Latin-American studies forum, the Queen's Institute for the Study of Conflict Transformation and Social Justice and the Conflict Resolution Unit in the Department of Foreign Affairs and Trade.