Women, Peace and Decision-Making in Post-Conflict Societies
Wednesday, 15 May 2013
NWCI Offices, 2/3 Parnell Square East, Dublin 1
10.30am - 13.00pm
The Liberia Solidarity Group, the NWCI (National Women's Council of Ireland) and IBIS (Institute for British-Irish Studies), School of Politics and IR, UCD, would like to invite you to a round table discussion next Wednesday 15th May in Dublin. The event is entitled 'Women, Peace and Decision-Making in Post-Conflict Societies' and takes place from 10.30am - 13.00pm in the National Women's Council of Ireland's offices (4th Floor, 2/3 Parnell Sq. East, Dublin 1).
Conference Programme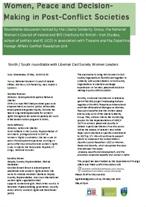 Our Liberian guest speakers are: Dorothy Tooman (Director of DEN-L Development Education Network Liberia), Kortoe Williams (Director of Action Aid Liberia) and Caroline Brown (Deputy Head of Mission, Medica Mondiale).
We aim to bring Irish Women in Civil Society Organisations North/South together in solidarity with women leaders in Civil Society Organisations in Liberia to exchange experiences. This round table event is part of the Liberia Solidarity Group's wider Trade Justice campaign.
Dorothy, Kortoe and Caroline are in Ireland as participants in the 1325 review. A particular theme of our discussion will be the release of Ireland's new White Paper which mentions a specific commitment to 1325 (p. 17):
We will continue to support efforts to implement the United Nations Security Council Resolution 1325 on Women, Peace and Security, which recognises the close links between the issues of peace, security and development, and the promotion of gender equality and women's rights. Ireland's recently launched National Action Plan for Implementation of UNSCR 1325 will guide our efforts in this area. The Conflict Resolution Unit in the Department of Foreign Affairs and Trade will play a lead role for the Government in this area.
http://www.irishaid.ie/media/irishaid/allwebsitemedia/20newsandpublications/publicationpdfsenglish/one-world-one-future-irelands-new-policy.pdf
LSG, the NWCI and IBIS are organising this event in association with our allies Trócaire. The visit is supported by the Department of Foreign Affairs and Trade - Conflict Resolution Unit.
RSVP for this event to lsgireland@gmail.com by Monday, 13th May at 5pm.
In solidarity.