Caroline Casey, Founder and CEO, Kanchi
Caroline Casey graduated from University College Dublin with a BA, DBS and an MBS.
Caroline Casey is the founder of the not-for-profit organisation Kanchi and its pioneering social franchise The Ability Awards. As a serial social entrepreneur Caroline is driving societal change aimed at nothing less than a complete reframing of disability.
Central to her and Kanchi's approach is the idea that as a powerful, all-pervasive influence in society, business can lead this change – and lead it well. And where business succeeds, Caroline believes, the rest of society will naturally follow. It's just a question of harnessing and channeling that influence in the right way.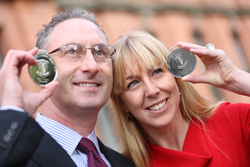 Caroline Casey with fellow UCD entrepreneurial graduate Alan T. Ennis, Revlon
For Caroline, 'the right way' meant leaving her position as a management consultant with Accenture in 2000, trekking 1,000 km across India on an elephant and founding Kanchi, which she named after that elephant. She had a clear vision for the organisation to create an inclusive world for people with disabilities by engaging the business and media worlds on their own terms and using language and methodologies they could understand and adopt easily.
Kanchi's work is helping to shift the focus from what people with disabilities cannot do, to what they can do, as customers, clients, colleagues and employees.
Caroline is visually impaired to the degree she is registered legally blind, but has never seen or experienced it as a limitation. Her work with Kanchi has brought her international recognition for her innovative, people-centred approach to changing mindsets and behaviours around disability, and she is in demand at home and abroad for her motivational public speaking and, in Ireland, as a board member for government, business and not-for-profit organisations.
Caroline's success and vision have seen her win many accolades. She was the first Irish person to be appointed a Young Global Leader of the World Economic Forum. She is also an Ashoka Fellow and an Eisenhower Fellow, and holds an honorary doctorate from National University Ireland. Currently she sits on the board of a number of media and charity organisations in Ireland.
She is also co-founder of British conservation charity Elephant Family, which promotes habitat conservation for the Asian elephant.
She has become a well-known figure in the Irish media world and has also travelled the globe to speak on her leadership work at prestigious events and forums including the Global Competitiveness Forum, the Clinton Global Initiative, Davos and the TED Talks.