Creating a Dynamic Entrepreneurial Community
Excellence in research and innovation that delivers strong and meaningful impact is central to all we do in UCD. In fact as set out in UCD's strategic plan 2015-2020, research and scholarship are at the heart of the University and epitomise the identify and reputation of UCD.
The knowledge they generate enables our nationally and internationally leading activities in innovation, enriches the education of our students and delivers impact economically, socially, culturally and in the formation of public policy.
UCD's long standing commitment to innovation at is reflected in an environment at UCD which encourages the translation of creative research ideas into solutions addressing needs of the economy and of society. All of these activities enrich the education delivered to UCD students, developing creative graduates who will be the leaders meeting the challenges of the future.
Four key innovation themes at UCD are; inspiring creative and innovative graduates, putting knowledge to work through applied research, partnering with industry and the public sector, and growing and supporting new business.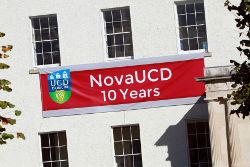 NovaUCD, Centre for New Ventures and Entrepreneurs
In October 2003, UCD seized first-mover advantage and officially opened NovaUCD, a world-class, custom-built incubation facility based around one of its historic Georgian buildings. Today, NovaUCD has an unparalleled infrastructure, a range of comprehensive support programmes and a peer-support system that has nurtured an enthusiastic and dynamic community of highly talented entrepreneurs.
NovaUCD was funded through a unique public-private partnership and was the brainchild of its then Director Dr Pat Frain. His foresight was supported by our founding sponsors, AIB Bank, Arthur Cox, Deloitte, Enterprise Ireland, Ericsson, Goodbody Stockbrokers, UCD and Xilinx, who since 2003 have helped make the NovaUCD vision a reality.
In 2013 we produced a report to celebrate NovaUCD's first 10 years of commercialisation and entrepreneurial success.
In this publication you can read about how many of our companies have gone on to achieve considerable success on the world stage with groundbreaking technologies developed from research carried out at UCD. A series of case studies also demonstrate how this research and our companies have had an impact in sectors as diverse as equine performance, food, healthcare, ICT and space science.
The report also feature the results of our 10-year economic impact survey.
Looking to the future, as NovaUCD moves into its second decade, we believe that many of the most promising commercial opportunities that lie ahead will result from the convergence of knowledge, for example, in the fields of connected health and medical devices, where technology and healthcare solutions combine.
UCD is Ireland's largest university and one of the largest repositories of knowledge in Ireland. Therefore the opportunities ahead of us are immense and we are in no doubt that an exciting future lies ahead for NovaUCD.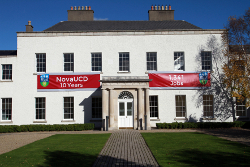 SHARE