Case Studies
In our NovaUCD 10th anniversary publication we celebrate 10 years of commercialisation and entrepreneurial success at NovaUCD.

In this publication you can read about how many of our companies have gone on to achieve considerable success on the world stage with groundbreaking technologies developed from research carried out at UCD.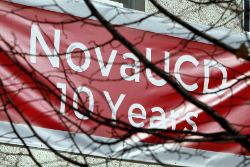 NovaUCD, Centre for New Ventures and Entrepreneurs
In a series of case studies, included in the NovaUCD 10th anniversary publication, you can also read how this research has had an impact in sectors as diverse as equine performance, food, healthcare, ICT and space science.
Links to these individual case studies are available beow.

Enterprising Academic Creates Jobs
Savouring the Taste of Success
Revolutionising the Diagnosis of Sleep-Disordered Breathing