Making a Real Economic Impact
UCD commissioned BiGGAR Economics to carry out an economic impact analysis of NovaUCD's entrepreneurial and commercialisation activities over a 10-year period from 2003 to 2013.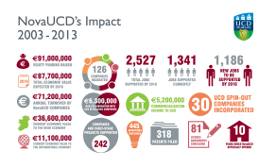 An infographic of the economic impact of NovaUCD's activities from 2003 to 2013
Since 2003, UCD has provided business development support to 242 companies and early-stage projects through the incubation services and supports provided at NovaUCD and through the NovaUCD Campus Company Development Programme.
In the last 10 years 126 companies have been direct clients of NovaUCD and availed of desk space, bio-incubation units or business unit facilities within the on-campus centre.
These supported companies, which currently employ 599 staff, of whom 489 are in Ireland, have raised €91 million in equity funding to date, and have a current annual turnover of €71.2 million. Furthermore, these same companies expect to create 851 new jobs by 2016, with 630 of them in Ireland.
Today, NovaUCD-supported companies contribute €34.5 million a year in Gross Value Added (GVA) to the Irish economy and a further €7.7 million GVA to the international economy. Between them these companies currently support 1,252 jobs, directly and indirectly, of which 1,022 are based in Ireland and 230 internationally.
Since 2003 the University has earned €5.2 million in commercialisation income. This includes €3 million from the sale of shareholdings in spin-out companies and €2.2 million in royalty-related income, of which 12% has come from Irish-owned companies, 54% from multinational companies with a base in Ireland and 34% from multinationals with no Irish presence.
As a direct result of entering into licensing agreements with UCD, businesses have been able to increase their annual turnover in Ireland by an average €3.6 million and international turnover by €5.8 million.
Intellectual property developed at UCD currently generates an additional €2.1 million GVA for the Irish economy and an additional €3.4 million GVA for the international economy and supports a total of 89 additional jobs each year.
The scale of NovaUCD's contribution to Ireland's economy looks set to increase significantly in years to come.
BiGGAR Economics estimate that, by 2016, existing supported companies will be generating €64 million GVA for the Irish economy each year and directly and indirectly supporting 1,900 jobs in Ireland, as well as contributing €18.2 million GVA and supporting 538 jobs in the international economy each year.
By 2016 total entrepreneurial and commercialisation activities at NovaUCD, assuming that the income generated by intellectual property remains in line with the trend of the past 10 years, will be generating €87.7 million GVA a year and supporting directly and indirectly some 2,527 jobs in all. Some €66.1 million of this GVA and 1,934 of these jobs will be within Ireland.
Click here for a summary of key NovaUCD economic impact data (2003-2013).
Notes:
Gross Value Added (GVA) generally regarded as the best measure of the total wealth creation in a given area (e.g. Ireland). It measures the economic contribution of each business. GVA is the difference between the value of goods and services produced (output) and the cost of raw materials and other inputs.
NovaUCD10_Economic_Impact_Infographic