Profiles of the NovaUCD 2012 CCDP Participants
AB Power is pioneering efficient, safe and sustainable hydrogen-based energy storage and release technology to power future environmentally friendly vehicles.
Founders: Dr Christian Grave and Dr Andrew Phillips, UCD School of Chemistry and Chemical Biology
DFT Imaging Solutions is developing an innovative soft x-ray microscope ideal for biological imaging. It is a wide field of view, high throughput, high-resolution device with virtually no sample preparation which makes it unique in the world of microscopy.
Founders: Dr Tom McCormack, Dr Dimitri Scholz, Dr Fergal O'Reilly, Dr Paul Sheridan & Niall Kennedy, UCD School of Physics and UCD Conway Institute of Biomolecular and Biomedical Research
EgoNav Analytics enables organisations to visualise, detect and prevent fraud. We apply techniques from cutting-edge social network analysis research to identify patterns between groups of individuals that indicate anomalous behaviour, in real-time and on a huge scale.
Founders: Dr Prag Sharma and Dr Lorcan Coyle, UCD School of Computer Science and Informatics
Pathogen Track will provide specialist expertise in performing and translating microbiological surveillance systems into improvements in food safety and forensic diagnostics for a wide range of pathogens.
Founder: Dr Karen Power & Professor Séamus Fanning, UCD School of Public Health, Physiotherapy and Population Science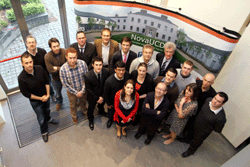 Participants on the 2012 CCDP
PurOrigin is developing a low cost, energy saving device which is a realistic alternative to conventional drying methods.
Founders: Finbarr Maguire and David Ronan, masters students, UCD School of Mechanical and Materials Engineering.
Seronline Networks is developing a WiFi-based easy-to-deploy communications solution which provides Wi-Fi Internet access at a location for the duration of an event.
Founder: Sebastian Robitzsch, PhD student, UCD School of Computer Science and Informatics
SpecPros is developing the use of hyperspectral imaging for the monitoring of food quality changes invisible to the human eye.
Founders: Dr Aoife Gowen and Carlos Esquerre, Professor Colm O'Donnell , UCD School of Biosystems Engineering
Yokie is developing a people-powered search and discovery engine that harnesses the fast, rich and social content on real-time web services such as Twitter. Yokie allows people to better find topical content; news organisations to gain real-time insight into topical trends amongst target audiences; and content creators to get paid with a novel ad market platform.
Founder: Owen Phelan, PhD student UCD School of Computer Science and Informatics
Share this story
Additional Information
SHARE