Enbio signs €500,000 contract with European Space Agency to optimise a 'sunscreen' to better protect satellites in space
Enbio
, the Irish surface technology company, today announced that it has secured a €500,000 contract with the
European Space Agency
(ESA).
The contract will enable Enbio to optimise a proprietary surface treatment for use as a 'sunscreen' to better protect satellites as they travel in space. The contract will also enable Enbio to establish its first manufacturing facility at its headquarters at NovaUCD, the Centre for New Ventures and Entrepreneurs, at University College Dublin.
The contract was secured with support from
Enterprise Ireland
which is the co-ordinating body for ESA in Ireland.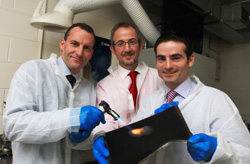 Pictured (l-r) at NovaUCD are Nigel Cobbe, Vice-President, Business Development, Enbio, John O'Donoghue, CEO, Enbio and Dr James Carton, Industrial Surfaces Programme Manager, Enbio.


In its new manufacturing facility Enbio will use its patented technology platform, CoBlast, to produce unique 'black' surfaces, which it will then deploy on critical internal and external surfaces of satellites.
These 'black' surfaces, called 'SolarBlack(s)', uniquely combine extreme thermal and ultra-violet radiation stability, robustness and electrical conductivity characteristics. These surfaces will provide satellites with a more robust surface than is currently available to counter the intense solar radiation encountered in space, thus better protecting satellites and their payloads while they journey through space.
Welcoming the announcement, Mr Seán Sherlock TD, Minister for Research and Innovation, said, "This is yet another example of a highly innovative Irish company developing advanced technology for the space programme. I am particularly pleased to see that this will lead to a new manufacturing facility in Dublin with potential for long term, high skills job creation. This announcement provides further evidence that Ireland's membership of ESA, with the support of Enterprise Ireland, continues to support the development of an expanding high technology industrial sector in Ireland."
Speaking on the announcement of the ESA contract, Nigel Cobbe, Vice-President, Business Development, Enbio said, "This is a fantastic achievement not only for Enbio but also for Ireland's high-tech manufacturing base."
Enbio is also currently collaborating with Astrium, the prime contractor for the Solar Orbiter satellite mission to the Sun. This challenging ESA science mission is aimed at studying Earth's nearest star and is due for launch in 2017.
The Solar Orbiter will travel closer to the Sun than any previous satellite mission and will require extremely robust and stable surfaces to protect the sensitive scientific instruments on-board. Enbio's SolarBlack is a candidate technology for a number of applications on this particular satellite, including its critical heatshield.
Andy Whitehouse, Solar Orbiter programme manager at Astrium, Europe's leading space company said, "The challenges of building a spacecraft that will fly so close to the Sun means we are always looking at better ways to protect it from the harsh environment – and Enbio's surface looks very promising."
Mr Cobbe added, "The possible selection of our surface technology on the Solar Orbiter satellite, in particular as the first line of defence on the heatshield, unquestionably highlights the unique robustness of our surfaces. Quite literally – the best surface under the sun!"
The unique advantages of Enbio's surfaces for the aerospace industry were initially highlighted during a technical programme funded by the ESA and Enterprise Ireland.
The Enbio CoBlast process was invented and developed by company CEO John O'Donoghue. CoBlast replaces a metal's oxide layer, typically aluminium and titanium, with a desired thin surface which fuses to the underlying metal in a single, environmentally friendly process step, requiring no chemicals or thermal input.
"Our technology offers unique surface solutions to challenges across multiple industry sectors including the aerospace industry. It is Enbio's intention to establish a Surfaces Centre of Excellence in Ireland, including manufacturing and R&D functions, to offer such solutions to global markets," concluded Mr Cobbe.
Congratulating Enbio on securing the European Space Agency contract, Professor Peter Clinch, UCD Vice-President for Innovation said, "Enbio is an excellent example of an Irish company whose technology is being used to solve a problem in a global industry, in this case the aerospace industry. I am delighted that Enbio's new manufacturing facility is being located on University College Dublin's campus, at NovaUCD."
In addition to its headquarters at NovaUCD, Enbio is actively collaborating in research and development activities with University College Dublin, specifically with UCD's School of Mechanical and Materials Engineering.
ENDS
13 December 2012
For further information contact: Micéal Whelan, University College Dublin, Communications Manager (Innovation), e: miceal.whelan@ucd.ie or t: + 353 1 716 3712, Nigel Cobbe, Vice-President, Business Development, Enbio, t: +353 1 525 3305, e: nigel.cobbe@enbiomaterials.com or Ciara Clogher, Communications, Research and Innovation BU, Enterprise Ireland, e: ciara.clogher@enterprise-ireland.com, t: +353 1 727 2725.
Editors Notes
Enbio is currently strengthening its suite of strategic technical and development partners aimed at offering its CoBlast technology, equipment, consumables and support through a global network of established world-class companies, embedded across multiple industry sectors. www.enbiomaterials.com
The European Space Agency (ESA) is Europe's gateway to space. ESA is an intergovernmental organisation, created in 1975, with the mission to shape the development of Europe's space capability and ensure that investment in space delivers benefits to the citizens of Europe and the world.
ESA has 20 Member States: Austria, Belgium, the Czech Republic, Denmark, Finland, France, Germany, Greece, Ireland, Italy, Luxembourg, the Netherlands, Norway, Portugal, Romania, Spain, Sweden, Switzerland and the United Kingdom, of whom 18 are Member States of the EU. ESA has Cooperation Agreements with nine other Member States of the EU and is negotiating an Agreement with the one remaining (Bulgaria). Poland exchanged Accession Agreements with ESA in September 2012 to become the 20th Member State. Canada takes part in some ESA programmes under a Cooperation Agreement.
By coordinating the financial and intellectual resources of its members, ESA can undertake programmes and activities far beyond the scope of any single European country.
ESA develops the launchers, spacecraft and ground facilities needed to keep Europe at the forefront of global space activities. Today it launches satellites for Earth observation, navigation, telecommunications and astronomy, sends probes to the far reaches of the Solar System and cooperates in the human exploration of space. www.esa.int
Astrium is a wholly owned subsidiary of EADS, a global leader in aerospace, defence and related services. Number 1 in Europe and no. 3 worldwide, Astrium employs 17,000 men and women in five countries: France, Germany, the UK, Spain and the Netherlands. 17,000 professionals chosen from among the very best, all passionate about space and driven by the great adventure of our time – bringing the infinite potential of space down to Earth for the benefit of mankind. www.astrium.eads.net/
At NovaUCD, the hub for new ventures and entrepreneurs at University College Dublin, we provide purpose-built, state-of-the-art incubation facilities for knowledge-intensive companies alongside a comprehensive business support programme for our client companies. At NovaUCD we nurture new technology and knowledge-intensive enterprises such as Enbio. NovaUCD has been funded through a unique public-private partnership that includes AIB Bank, Arthur Cox, Deloitte, Enterprise Ireland, Ericsson, Goodbody Stockbrokers, UCD and Xilinx. www.ucd.ie/innovation
SHARE