Emmy Award Winning Correspondent Awarded UCD Honorary Degree of Doctor of Literature
Terence McCarthy, an Emmy Award winning correspondent, has been awarded a UCD honorary degree of Doctor of Literature.
For about 30 years, Terry McCarthy, who was born and educated in Ireland, has travelled the world for television and print media covering politics, business, military, social and environmental issues across the US, Europe, Asia and Latin America.
He has managed bureaus in the US and overseas, and set up two bureaus in war zones. He speaks six languages, has won four Emmys and an Edward R. Murrow award.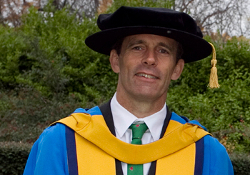 Dr Terry McCarthy, Emmy Award winning correspondent
Post 9/11, McCarthy covered the war in Afghanistan, where he opened TIME's Kabul office, and later went to Kuwait to follow the troops into Iraq in 2003. After the fall of Saddam Hussein, McCarthy set up TIME's bureau in Baghdad.
His first forays into television came in Iraq, where he was part of the ABC News/TIME team that reported the special series "Iraq, Where Things Stand", which won two Emmy Awards in 2003 and 2004.
He covered the execution of Saddam Hussein, the battle for Baghdad and the U.S. troop surge under General Petraeus. He travelled throughout Iraq covering the war from the U.S. military and the Iraqi civilian perspectives, for which he won an Emmy Award in 2007.
Terry McCarthy also reported on Islamic radicals in Jordan, life along the Yangtze River in China, the North Korean nuclear threat, swine flu in Mexico and hurricanes in the Caribbean.
After completing his studies in Philosophy at University College Dublin, Terry moved to Paris to further pursue his studies before returning to Ireland to begin his reporting career working for the Irish Press in Dublin in 1984. He left Ireland to cover the civil wars in El Salvador and Nicaragua and the earthquake in Mexico City in 1985.
Terry McCarthy was appointed President and CEO of the Los Angeles World Affairs Council in July 2012.
The official citation at the conferring ceremony was delivered by Professor Ben Tonra, UCD School of Politics and International Relations who said, "Terry McCarthy has spent a professional lifetime asking "why" and then translating that answer to millions of viewers and readers around the world. His passion has been – in his own words – "to break down received stereotypes and preconceptions about foreign cultures and ways of life." It is evident that his genius has been to do so in such a way as to engage, fascinate and to inform."
Additional UCD honorary awards were also recently presented as follows
Former CEO, Enterprise Ireland, Frank Ryan, UCD Honorary Degree of Doctor of Laws
CEO, ICON, Ciaran Murray, UCD Honorary Degree of Doctor of Laws
Former President, Royal College of Surgeons in Ireland, Eilis Mc Govern, UCD Honorary Degree of Doctor of Science
Former President of the American Transplant Society, Dr Barbara Murphy, UCD Honorary Degree of Doctor of Science
Retired circuit court judge, Yvonne Murphy, UCD Honorary Degree of Doctor of Laws.
ENDS
10 December 2012
For further information contact Micéal Whelan, University College Dublin, Communications Manager (Innovation), e: miceal.whelan@ucd.ie, t: + 353 1 716 3712.
SHARE