UCD Postgraduate Student Wins Science Foundation Ireland Award for Most Impressive Research Image of 2013
During the Science Foundation Ireland (SFI) annual science summit, held this week in Athlone, a special award for the most impressive image captured as part of a research study in Ireland during 2013 was presented to Rory Heffernan, a University College Dublin PhD student.
The awarded was presented to Rory by Seán Sherlock TD, Minister for Research and Innovation.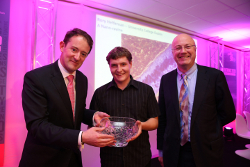 Seán Sherlock TD, Minister for Research and Innovation, UCD PhD student, Rory Heffernan and Prof. Mark Ferguson, Director-General, SFI
Mr Heffernan's winning and highly topical image, entitled 'A nano-ravine', shows the membranes used in nanofiltration, one of the last stages of the public water cleaning process. Over time a layer of particles builds up on these membranes used for filtration which means they need to be replaced.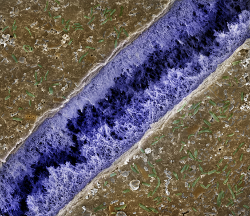 'A nano-ravine' - Rory Heffernan's award winning image
His image captures the layer of particles that have built up on the membrane (brown), bacteria growing on this layer (green) and a view through a tear into the structure of the membrane itself (blue).
Rory Heffernan, a PhD research student in Professor Eoin Casey's research group in UCD's School of Chemical and Bioprocess Engineering, captured the image in collaboration with Dr Ian Reid of UCD's Nano Imaging and Material Analysis Centre (NIMAC).
Rory's image will appear on the front of the 2013 SFI Annual Report to be published next year.
Congratulating Rory on his award Professor Peter Clinch, UCD Vice-President for Innovation said, "University College Dublin justly prides itself on being a world-class, research-intensive University where excellence in education is combined with a commitment to research, creativity and innovation. Innovation at UCD revolves around four themes, one of which is inspiring creative graduates, such as Rory." He added, "I commend Rory on his photographic creativity in winning this prestigious SFI award for the most impressive image captured in Ireland in 2013 as part of a research study. I also wish him every success with completing his PhD in the UCD School of Chemical and Bioprocess Engineering."
At the SFI science summit, UCC's Professor Fergus Shanahan, a leading international experts in the area of gastrointestinal research, was named as the 2013 SFI Researcher of the Year.
Professor Shanahan was presented with the award in recognition of his significant contribution to understanding how intestinal bacteria influence both health and disease in the gut and beyond. He is the current Director of the Alimentary Pharmabiotic Centre which is an SFI funded Research Centre.
ENDS
8 November 2013
For further information contact For further information contact Micéal Whelan, University College Dublin, Communications Manager (Innovation), e: miceal.whelan@ucd.ie, t: + 353 1 716 3712.
SHARE