Neuromod Devices Appoints New Chief Commercial Officer as it Plans to Launch Innovative Treatment for Tinnitus Across Europe
Neuromod Devices, the Irish medtech start-up, today announced the appointment of Padraig Rushe as the company's new Chief Commercial Officer (CCO).
An experienced senior manager within the financial services sector, he brings extensive experience from past strategic roles in companies such as Bank of Ireland, RBS and GE to the company.
Neuromod Devices, founded in 2010 by Dr Ross O'Neill, is headquartered at NovaUCD, the Centre for New Ventures and Entrepreneurs at University College Dublin (UCD). The company has developed mutebutton™, a non-invasive medical device, for the treatment of chronic Tinnitus.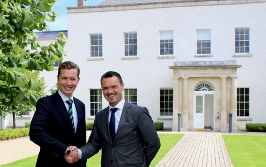 Pictured outside NovaUCD are Padraig Rushe and Dr Ross O'Neill, Neuromod Devices
Rushe will be working closely with Dr O'Neill in supporting the company's next stage of growth as it prepares to launch the mutebutton™ device, which is currently in the pre-approval phase of development, across Europe in 2015.
Making the announcement Dr Ross O'Neill, founder and CEO, Neuromod Devices said, "I'm delighted to have someone of Padraig's calibre joining the company. He brings both a new breadth of experience to the company and a great energy which makes him the perfect fit, as we begin what will be an exciting new phase for the company."
Padraig Rushe, who graduated from UCD with a BA (Hons) and with an MBA from TCD, also has extensive experience in product management, marketing, sales, risk management, distribution and operations management.
On his appointment as Neuromod Devices' new CCO, Padraig Rushe said, "Chronic Tinnitus can be a truly debilitating condition for sufferers, with limited forms of treatment available. Neuromod Devices is an exciting and talented Irish company and I personally believe the mutebutton™ medical device, has the potential to become a new standard or care for chronic Tinnitus globally. I'm passionate about the product, the company and the company's goals and I'm grateful for the opportunity to help drive the global launch of mutebutton™."
ENDS
29 July 2014
For more information contact Micéal Whelan, University College Dublin, Communications Manager (Innovation), e: miceal.whelan@ucd.ie, t: + 353 1 716 3712 or Padraig Rushe, Neuromod Devices, t: +353 1 442 9221 or e: padraig.rushe@neuromoddevices.com
Neuromod Devices was founded by Dr Ross O'Neill in 2010 as a spin-out from NUI Maynooth to develop novel and innovative neurostimulation technologies for the treatment of unaddressed neurological conditions. The company has developed a stable platform technology for the rapid development and evaluation of innovative neuromodulatory interventions and is certifying it to the highest international technical medical standards. This core technology will form the basis for a pipeline of new products that address high-value market opportunities. The company has been headquartered at NovaUCD since 2011. www.neuromoddevices.com
mutebutton™ is a completely new approach to the treatment of tinnitus. Unlike other technologies, such as noise-maskers and sound therapies that only provide relief while using the device, mutebutton™ is a clinically proven tinnitus treatment that combines auditory and transcutaneous electrical stimulation to drive real and lasting improvement in the patient's condition. www.mutebutton.ie
Tinnitus, commonly referred to as 'ringing-in-the-ears', is the perception of sound in the absence of a corresponding external stimulus. Tinnitus is not a disease or a syndrome but rather a set of symptoms.
At NovaUCD, the hub for new ventures and entrepreneurs at University College Dublin, we nurture and support new high-tech and knowledge-intensive companies as part of UCD's innovation mission. At NovaUCD we provide purpose-built, state-of-the-art incubation facilities alongside a comprehensive business support programme for our client companies such as Neuromod Devices. NovaUCD has been funded through a unique public-private partnership that includes AIB Bank, Arthur Cox, Deloitte, Enterprise Ireland, Ericsson, Goodbody Stockbrokers, UCD and Xilinx. www.ucd.ie/novaucd
SHARE