Shimmer Sensing and Kinesis Health Technologies Reach Partnership in Supply of Novel Mobility and Falls Risk Assessment Technology 'QTUG™'
- Award winning Shimmer sensor platform incorporated in Kinesis QTUG™ for assessment of mobility and falls risk in older people
Irish companies Kinesis Health Technologies, a University College Dublin spin-out, and Shimmer today announced a partnership worth €3 million incorporating Shimmer's award winning sensor platform into Kinesis QTUG™ technology.
Kinesis QTUG™ (Quantitative Timed Up and Go) is a ground-breaking evidenced based technology which allows for earlier detection of mobility impairment and falls risk in older adults and aims to advance the field of falls prevention.
The product which is based on research conducted in Ireland, is a Class I medical device registered in Europe, US and Canada.
Falls in the elderly are a major problem worldwide, it is estimated that 30% of adults over 65 years of age fall each year. Incidence rates in hospitals and long-term care settings are higher with approximately 30–50% of people falling each year, with 40% of those falling recurrently. The direct and indirect societal costs of falls are enormous. In the US alone, the cost of falls has been estimated to be in the region of US $30 billion per annum.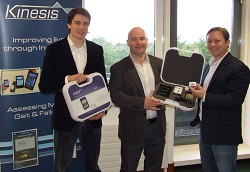 Dr Barry Greene, CTO and Seamus Small, CEO, Kinesis Health Technologies and Paul Doherty, Vice-Presdient of Sales, Shimmer
The partnership, which includes Shimmer's sensor platform in Kinesis' QTUG™ product will be worth approximately €3 million to Shimmer over the next four years. Initially, the Kinesis QTUG™ product will be available in North America, Ireland and the U.K.
Seamus Small, CEO, Kinesis said, "We are delighted to reach agreement and partner with Shimmer Sensing on the supply of their sensor platform for the Kinesis QTUG™ product. We are fortunate to have such a critical partner based only a few miles away. We look forward to working with Shimmer Sensing in serving the global market for falls prevention, and helping to address such a major healthcare challenge."
Paul Doherty, Vice-President of Sales, Shimmer said, "Our partnership with Kinesis is an excellent fit as we focus on clinical grade sensing technology for digital health solutions. What Kinesis are doing is pushing the boundaries in this area, by focusing on preventing falls before they occur, rather than reacting to serious event or fall that has taken place."
Kinesis is a spin-out of a large ageing research centre, the Technology Research for Independent Living (TRIL) Centre at University College Dublin.
ENDS
3 November 2014
For further information contact Micéal Whelan, University College Dublin, Communications Manager (Innovation), e: miceal.whelan@ucd.ie or t: + 353 1 716 3712 or Seamus Small, Kinesis Health Technologies, +353 1 716 5401, e: info@kinesis.ie or Martina Donohue, Shimmer, e: mdonohue@shimmersensing.com or t: + 353 1 687 5760.
Editors Notes
Kinesis Health Technologies is an award-winning health technology start-up company based in Dublin, Ireland. Kinesis is a spin-out of a large ageing research centre the Technology Research for Independent Living (TRIL) Centre and University College Dublin. Kinesis QTUGTM, a proprietary technology, which uses body worn sensors combined with a standard clinical test (the Timed Up and Go - TUG) for assessment of mobility and falls risk. Kinesis QTUG™ has been validated as part of an extensive programme of top-tier internationally peer-reviewed research in Falls Prevention over a 6 year period. www.kinesis.ie
Shimmer is a leading technology company providing clinical grade wearable wireless sensing technology. Our award winning platform enables enterprises to reduce risk, cost, and time to market for sensor based digital health solutions. Shimmer offers consultancy, design, customisation, and volume manufacture for a full range of wearable sensor technology to provide high quality, scientifically reliable biophysical and movement data in realtime. This unlocks the potential for analysis and interpretation of sensed data specific to the person and creates an unprecedented level and access to personal digital health information, with the goal of improving health care outcomes.
Our technology is trusted and utilised by the world's brightest start-ups, Fortune 500 companies, and leading Universities in over 65 countries worldwide. Deployments include an FDA approved biophysical application in the US, tele-rehab solution in Spain, and player tracking and performance management solution in the UK and Ireland.
Established in 2008, with headquarters in Dublin, Ireland and a world class R&D centre in Boston, Shimmer offers wearable wireless sensing technology that overcome the challenges of size, wearability, reliable communications and low power consumption. www.shimmersensing.com
SHARE