Intel-GE Care Innovations Partners with Kinesis Health Technologies to Reduce Healthcare Costs
Intel-GE Care Innovations™, a pioneer in connecting the care continuum to the home, and Kinesis Health Technologies, the University College Dublin (UCD) medical device spin-out company, has announced a partnership to market and distribute QTUG™, a Mobility and Falls Risk assessment technology.
The partnership focuses on helping the healthcare and senior living communities more proactively and aggressively prevent falls. QTUG™ is designed to give a more comprehensive view of an individual's risk of falling.
Care Innovations and Kinesis Health Technologies are focused on expanding falls screening programmes for the ageing population initially in the U.S., Canada, United Kingdom and Ireland.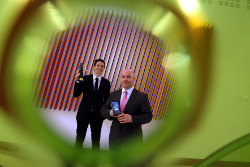 Dr Barry Greene and Seamus Small, co-founders, Kinesis Health Technologies
Based on seven years of clinical data, QTUG™ (Quantitative Timed Up and Go) allows both clinicians and health plans to effectively evaluate the therapy services rendered and understand when more or less therapy may be needed. QTUG™ is intended for use by healthcare professionals who assess falls risk in older adults, such as falls specialists within hospitals and community-based care nurses to help eliminate falls for residents.
Unlike current falls assessment techniques, QTUG™ provides an exact, quantitative evaluation of the many dimensions that make up a person's propensity to trip or fall and provides the clinician with a detailed assessment of what elements need to be addressed through therapy.
"Falls are a major cause of injury and hospitalisation, especially among older Americans. I believe our partnership with Kinesis Health Technologies will bring physical therapists and other clinicians a superior method of determining an individual's risk for falling, and provide the necessary support and information in order to intervene and reduce that risk," said Sean Slovenski, Chief Executive Officer at Care Innovations.
The QTUG™ system uses body-worn tri-axial gyroscopes and accelerometers – wireless inertial sensors – mounted on each leg combined with signal processing and machine learning methods to provide quantitative assessment of mobility and falls risk, as well as statistical comparisons against a large reference population relative to norms for age and gender. The collected data is streamed wirelessly via Bluetooth™ to a touchscreen tablet device that displays the calculated results.
"The direct and indirect costs of falls to society are enormous. However, many falls are avoidable, so more effective preventive measures can have a big impact on improving quality of life and reducing financial costs associated with falls," said Seamus Small, Chief Executive Officer of Kinesis Health Technologies.
In addition to identifying those patients at high risk of falls, QTUG™ can be used to assess a patient's response to therapy on an on-going basis.
Falls among older adults are a major problem worldwide, with an estimated 30 percent of adults over 65 falling each year. In long-term care settings, approximately 30 to 50 percent of people fall each year, with 40 percent of those experiencing repeated falls. In the U.S. alone, the cost of falls is estimated to be $30 billion per year, growing to $67.7 billion by 2020.
Kinesis is a spin-out of a large ageing research centre, the Technology Research for Independent Living (TRIL) Centre at University College Dublin.
ENDS
21 October 2014
For further information contact Micéal Whelan, University College Dublin, Communications Manager (Innovation), e: miceal.whelan@ucd.ie, t: + 353 1 716 3712 or Seamus Small, Kinesis Health Technologies, +353 1 716 5401, e: info@kinesis.ie.
Editors Notes
Intel-GE Care Innovations, a joint venture between Intel Corporation and GE Healthcare, connects the care continuum to the home and makes it easier for patients, family caregivers, and professional caregivers to interact and achieve better health at home.
Experts in technology and behavior change, Care Innovations identifies the best methods for health care providers and health plans to capture and integrate real-time data from the home into care delivery. The company's third-generation remote care management solution, Connect RCM, delivers insights for timely intervention and superior patient engagement with patients outside the formal care setting. The Connect RCM application is built with a smart filter and predictive analytics platform that sorts the complex array of aggregated data captured from a wide array of sensors and sources present in the daily lives of consumers. www.careinnovations.com
Kinesis Health Technologies is an award-winning medical device start-up based in Dublin, Ireland. QTUG™, a proprietary technology uses body worn sensors combined with a standard clinical test (the Timed Up and Go - TUG) for assessment of mobility and falls risk. QTUG™ has been validated as part of an extensive program of top-tier internationally peer-reviewed research in Falls Prevention over the past seven years. A dedicated research clinic was established in St James's Hospital, (Dublin, Ireland), with assessment of over 1,300 older adults. www.kinesis.ie
Data on the cost of falls among older adults is available via http://www.cdc.gov/homeandrecreationalsafety/falls/fallcost.html
SHARE