CeADAR Open Days Demonstrate the Transformation of Big Data into Value for Industry
CeADAR, the Centre for Applied Data Analytics, has held a series of open days in Dublin and Cork, focused on demonstrating how it can transform information or 'big data', into insight and into value for its industry partners.
The event entitled 'Big Data Analytics: Technology's Hottest Trend' included a series of prototype demonstrations along with a numbers of speakers from industry and academia.
CeADAR is an industry-led Technology Centre for the development and deployment of analytical technology and innovation and is headquartered at NexusUCD, the Industry Partnership Centre at University College Dublin.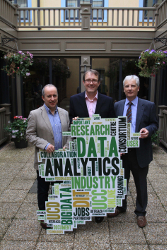 Maurice Lynch, Nathean, Dr Edward McDonnell, CeADAR and Nick Grattan, Biovia
Technology Centres are a joint initiative between Enterprise Ireland and the IDA with funding provided by the Department of Jobs, Enterprise and Innovation. CeADAR focuses on developing tools, techniques and technologies that enable more people, organisations and industries to use analytics for better decision making.
CeADAR's business model meets the needs of industry by leveraging state-of-the-art research with practical applications to the challenges that currently face industry. CeADAR's prototypes are developed in collaboration with its industry partners and are delivered within 6-month timeframes for on premise evaluation by industry. CeADAR typically develops 20 prototypes each year or 10 projects every 6 months.
Dr Edward McDonnell, Director, CeADAR said, "CeADAR's work focuses on developing tools, techniques and technologies that enable more people, organisations and industries to use analytics for better decision making. Our CeADAR business model of industry-directed applied research was demonstrated at the open days with 20 hands-on prototypes which showcased research specific to a variety of real-world challenges that were defined by individual members of CeADAR's industry base."
Among the industry speakers who took part in the open days were Aidan Connolly, Idiro; Nick Grattan, Biovia; Richard Southern, Deloitte; Kevin Neary, Connectors Marketplace and Maurice Lynch, Nathean.
Aidan Connolly, CEO, Idiro said, "Initiatives like CeADAR ensure that big data analytics continues to move in the right direction. CeADAR's work is imperative to the success of new developments in the industry. We are delighted to be working with both CeADAR and University College Dublin and predict great success in our future endeavours."
Academic speakers at the open days included; Professor Padraig Cunningham, UCD; Dr Brian MacNamee and Dr Eoghan O'Shea, Dublin Institute of Technology along with Professor Barry O'Sullivan and Dr Liam O'Toole, University College Cork.
Professor Pádraig Cunningham, UCD School of Computer Science and Informatics said, "CeADAR is attractive for academic researchers because data analytics research requires access to real data and the 6-month turnaround in the CeADAR research lifecycle provides a steady supply of interesting research challenges. Clearly this short project cycle is also attractive for the industry partners."
ENDS
24 September 2014
For further information contact Micéal Whelan, University College Dublin, Communications Manager (Innovation), e: miceal.whelan@ucd.ie, t: + 353 1 716 3712, Dr Edward McDonnell, CeADAR, Director, e: edward.mcdonnell@ucd.ie.
Editors Notes
CeADAR, the Centre for Applied Data Analytics Research, is an industry-led technology centre initiative for innovation and applied research that accelerates the development, deployment and adoption of data analytics technology and relevant innovations. CeADAR is led by University College Dublin with partners UCC and DIT. The academic partners work closely with Irish-based companies to make the centre an internationally renowned hub for data analytics research. CeADAR is developing a world-class creative environment that will foster innovation and support the development of a team of highly innovative technology professionals. www.ucd.ie/ceadar/
SHARE