Minister English Opens ENBIO's New €1.5 million Space Technology Centre in Clonmel
- 12 new jobs 'making sunscreen for satellites' at ENBIO facility funded through European Space Agency contract
Damien English TD, Minister of State for Skills, Research and Innovation today officially opened ENBIO's new €1.5 million Space Technology Centre in Clonmel, Co. Tipperary.
The new facility has been funded by the European Space Agency (ESA) and is ENBIO's centre of excellence for the development and production of Thermal Management treatments or 'sunscreen technology' for satellites, spacecraft, and space related hardware.
ENBIO is headquartered at NovaUCD, the Centre for New Ventures and Entrepreneurs at University College Dublin.
Opening the facility, Minister English TD said "ENBIO has achieved remarkable success during its four year development programme with the European Space Agency (ESA), which has brought over €1.5 million in ESA funding to Clonmel in addition to creating up to 12 new jobs in 2015 and into 2016. I congratulate the team at ENBIO and commend Enterprise Ireland for assisting the company to secure the €1.5 million contract from the European Space Agency."
Minister English also said that "In 2015 Ireland celebrates 40 years as an active and proud member State of ESA and ENBIO's success in this field and its involvement in the exciting Solar Orbiter mission is a fitting reflection of the ultra-high-technology capabilities developed by the Irish Space Sector".
The new facility will enable ENBIO to produce the next generation of surface treatments to cope with the harsh conditions of Outer Space. The Clonmel facility will produce proprietary surface treatments to protect vital parts of the ESA Solar Orbiter satellite due to launch in 2017.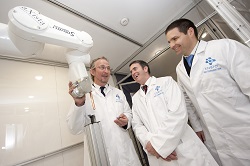 ‌
Pictured at the opening of ENBIO's Space Technology Centre in Clonmel are John O'Donoghue, CEO, ENBIO; Minister Damien English TD and Yves Bonnefous, European Space Agency
ENBIO's coatings will protect all of the sun facing surfaces of the ESA satellite, allowing scientists to get closer to the sun than any previous mission and making ENBIO's coating the closest man-made object to the Sun.
In its Space Technologies Centre, ENBIO will use its patented technology platform, CoBlast, invented by company CEO John O'Donoghue, to produce a unique "SolarBlack" surface, which it will then deploy on critical internal and external surfaces of the satellite. CoBlast replaces the oxide layer of a metal - typically aluminium or titanium - with a thin surface which fuses to the metal in a single, environmentally friendly process step, requiring no chemicals or thermal input.
ENBIO's CEO John O'Donoghue said that "thanks to the strength of the team at ENBIO, we are ESA's fastest adopted hardware ever, setting new records for getting a technology from concept to flight qualified. Not bad for a small company! We are proud to bring a hi-tech investment into Ireland given that we are a small company, and we will continue to develop our surface enhancement technology to solve unmet needs for space and beyond."
A complementary ceramic surface, "SolarWhite", a next-generation, high temperature reflective white coating, has also been developed by ENBIO and the facility has been designed to produce both coatings for space applications.
ENBIO's coatings uniquely combine extreme thermal and ultra-violet radiation stability, robustness and electrical conductivity characteristics. ENBIO will provide satellites with a more robust surface than is currently available to counter the intense solar radiation encountered in space, thus better protecting satellites and their payloads for the duration of their missions.
The contract was secured through Ireland's membership of ESA which is managed by Enterprise Ireland. Tony McDonald, Enterprise Ireland's Space Technologies Programme Manager said that ENBIO is "one of a growing number of highly innovative Irish technology companies securing ESA contracts with the active support of Enterprise Ireland and the Department of Jobs, Enterprise and Innovation. The total number of Irish companies currently, or recently, active in ESA programmes is almost 50 and growing."
ENDS
14 April 2015
For further information contact Micéal Whelan, University College Dublin, Communications Manager (Innovation), t: + 353 1 716 3712, e: miceal.whelan@ucd.ie, Dr Sinead McGlynn, R&D and Space Programme Manager, ENBIO, e: sinead.mcglynn@enbio.eu
Editors Notes
ENBIO is currently strengthening its suite of strategic technical and development partners aimed at offering its CoBlast technology, equipment, consumables and support through a global network of established world-class companies, embedded across multiple industry sectors. ENBIO also offers unique protection to a suite of terrestrial applications including enhanced corrosion resistance and thermal protection within the oil and gas sector and thermal flow solutions within the electronics sector. www.enbio.eu
The European Space Agency (ESA) is Europe's gateway to space. ESA is an intergovernmental organisation, created in 1975, with the mission to shape the development of Europe's space capability and ensure that investment in space delivers benefits to the citizens of Europe and the world. ESA develops the launchers, spacecraft and ground facilities needed to keep Europe at the forefront of global space activities. Today it launches satellites for Earth observation, navigation, telecommunications and astronomy, sends probes to the far reaches of the Solar System and cooperates in the human exploration of space. www.esa.int
Enterprise Ireland co-ordinates Ireland's industrial and research participation in the programmes of the European Space Agency (ESA) in collaboration with the Department of Jobs, Enterprise and Innovation.
The purpose of Ireland's membership of ESA is to participate in European space programmes with a focus on facilitating innovative Irish companies to develop leading edge space technologies and to commercially exploit their ESA participation in global space and non-space markets, leading to increased export sales and employment.
Enterprise Ireland's role in relation to ESA is to assist Irish companies to successfully bid for ESA contracts, providing expertise for Irish companies and researchers in developing and executing space strategies, as well as being a point of reference for the international space industry when they want to identify relevant sources of space-related expertise within Ireland.
Irish industrial and research participation in ESA covers a range of sectors and technology areas including; software, precision mechanical engineering, telecommunications, electronics, optoelectronics and advanced materials and extending to end user equipment, services and applications. www.enterprise-ireland.com
At NovaUCD, the hub for new ventures and entrepreneurs at University College Dublin, we nurture and support new high-tech and knowledge-intensive companies as part of UCD's mission. At NovaUCD we provide purpose-built, state-of-the-art incubation facilities alongside a comprehensive business support programme for client companies such as ENBIO. UCD's technology transfer team, which is responsible for the commercialisation of intellectual property arising from research and other knowledge-intensive activity at UCD, is also based at NovaUCD. NovaUCD has been funded through a unique public-private partnership that includes AIB Bank, Arthur Cox, Deloitte, Enterprise Ireland, Ericsson, Goodbody Stockbrokers, UCD and Xilinx. www.ucd.ie/nova
SHARE