Green Innovator Receives the NovaUCD 2016 Innovation Award
- Professor O'Connor's intellectual property portfolio includes 11 inventions, 9 patents, 6 licence agreements and 1 spin-out company
University College Dublin (UCD) today presented Professor Kevin O'Connor, a leading green technologies researcher and innovator, with the NovaUCD 2016 Innovation Award.
The Award was presented to Professor O'Connor, a professor at the UCD School of Biomolecular and Biomedical Science and a principal investigator at the UCD Earth Institute, by UCD President, Professor Andrew J. Deeks, during an event held at NovaUCD, the Centre for New Ventures and Entrepreneurs.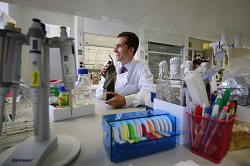 ‌
Professor Kevin O'Connor, recipient of the NovaUCD 2016 Innovation Award
Professor O'Connor's interests include research into the development of biodegradable polymers; methods of improving the recycling of plastic and other materials i.e. upcycling; the transformation of waste products and industrial side streams into value added products. His expertise includes areas such as the bioeconomy, environmental technology, bioprocessing, biocatalysis, and protein engineering.
Speaking at the event Professor Andrew J. Deeks, UCD President said, "I am delighted to present the NovaUCD 2016 Innovation Award to Professor O'Connor in recognition of the quality and impact of his peer-reviewed research, his technological developments for the production of bio-based products as well as his industrial collaboration and successes in the commercialisation of the intellectual property arising from his research at the University."
He added, "This Award also recognises Kevin as an excellent innovation role model. Since joining UCD in 1999 he has combined excellence in teaching and research with a demonstrated commitment to translating his research outputs into commercial applications. He is at the forefront of the development of the new bioeconomy which holds great promise for job creation in Ireland. I would like to congratulate him and wish him continued success."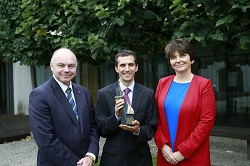 Professor Andrew J. Deeks, UCD President, Professor Kevin O'Connor and Professor Orla Feely, UCD Vice-President for Research, Innovation and Impact
Professor O'Connor, who has already secured over €16 million in research funding, is the lead principal investigator in the UCD Biocatalysis Group. This Group is focused on the synthesis of bio-degradable polymers as well as small bioactive molecules. The Group also investigates the ability of bacteria and their enzymes to convert waste or inexpensive starting materials into value added products.
Professor O'Connor's research output to date includes the publication of over 85 international peer review articles and 150 international conference papers. His intellectual property portfolio currently consists of 11 invention disclosures; the filing of 9 priority patent applications and 6 licence agreements.
He is also the co-founder and CEO of Bioplastech, a UCD spin-out company which he established in 2009 with Dr Ramesh Babu, from Trinity College Dublin and Italian entrepreneur, Enrico Altieri.
Bioplastech, which currently employs a staff of 7, uses a patented manufacturing technology process to convert waste materials into high value-added, environmentally friendly (i.e. biodegradable) polymers. Bioplastech has developed a number of adhesive products based on its biodegradable polymers and is currently testing these with a number of international adhesive companies.
On receiving the NovaUCD 2016 Innovation Award, Professor Kevin O'Connor said, "I am honoured to receive this prestigious University College Dublin award. The Award recognises the huge effort, commitment and intellect of the current and past researchers and students in my research lab in UCD and in Bioplastech to develop and commercialise our technologies. They, like me, strive to combine excellent science, innovation and collaborations with industry to improve the quality of our environment and to impact the Irish and international economy."
He added, "In this regard Bioplastech, is currently raising external funding over the next 6 months to enable us to build a demonstration facility to produce our adhesive products. I am also in the early stages of assessing the foundation of another company for the production of a bio-based antioxidant with multiple health benefits. It's an exciting time."
He concluded, "The innovation ecosystem created and developed at NovaUCD through the vision and hard work of the technology transfer managers and the enterprise support programmes are a huge benefit for researchers like me as they provide the roadmap and support structures that enable us to commercialise our research outputs."
The NovaUCD Innovation Awardwas established in 2004 to highlight University College Dublin's commitment to innovation. The Award is presented annually to an individual, company or organisation or group in recognition of excellence in innovation or of success achieved in the commercialisation of UCD research or other intellectual activity.
ENDS
31 August 2016
For further information contact Micéal Whelan, University College Dublin, Communications Manager (Innovation), e: miceal.whelan@ucd.ie, t: + 353 1 716 3712.
Editors Notes
Professor Kevin O'Connor,a professor at the UCD School of Biomolecular and Biomedical Science and a principal investigator at the UCD Earth Institute, is also a funded investigator with AMBER, the Advanced Materials and Bioengineering Research Centre and The Dairy Processing Technology Centre.
Internationally Professor O'Connor and his UCD research team are part of a pan-European research consortium which has secured €7.6 million in European Union Horizon 2020 funding for a 5-year project called P4SB. This project aims to propel the sustainable production of new biopolymers from waste plastic and to establish a platform that increases biopolymer production efficiency through the use of synthetic biology and bacteria fermentation.
Professor O'Connor is at the forefront on developments in the bioeconomy as a member of the European Commission's bio-based products expert group seeking to understand and develop policy measures to promote bio-based product uptake in the market place. He is also chairperson of the scientific committee for the BBI JU, a €4 billion public private partnership between the European Commission and the Biobased Industries Consortium (BIC) in Europe to develop sustainable biobased industrial activity in Europe.
Prior to joining University College Dublin in 1999, Professor O'Connor completed his PhD in University College Cork and post-doctoral fellowships in ETH Zurich, Switzerland and in Wageningen University, The Netherlands.
Previous recipients of the NovaUCD Innovation Award are; Professor Eoin Casey and Dr Eoin Syron (2015); Dr Emmeline Hill, (2014); Dr Viliam Holub and Dr Trevor Parsons (2013); Dr Denis Dowling (2012); Professor William Gallagher (2011); The Fault Analysis Group (2010); Nicola Mitchell (2009); Celtic Catalysts (2008); Professor Ciaran Regan (2007); Professor Conor Heneghan (2006); Professor Barry Smyth (2005) and Professor Mark Rogers (2004).
SHARE