University College Dublin and IBM Research Host Joint Colloquium on Cognitive IoT
University College Dublin (UCD) and IBM Research–Ireland have hosted a joint colloquium at the University entitled 'The Cognitive IoT Disruption'.
The colloquium, organised by UCD Research and Innovation and IBM Research, was held in the Moore Auditorium, UCD O'Brien Centre for Science, and was opened by Professor Andrew Deeks, UCD President and Barry O'Brien, Government and Regulatory Affairs Executive, IBM Ireland.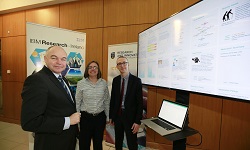 Professor Andrew Deeks, UCD President, Dr Wendy Belluomini, Director, IBM Research, Ireland and Barry O'Brien, Government and Regulatory Affairs Executive, IBM Ireland
Cognitive IoT brings together two of the most disruptive ideas that are currently transforming a host of industries; the Internet-of-Things (IoT) and Cognitive Systems.
Large scale systems that can sense, parse, reason and debate with operators open new possibilities for innovation and promise a range of efficiencies in almost every domain.
IBM Research is at the forefront of these technologies, and building on Watson IoT technologies, IBM is realising new concepts and ideas in areas such as healthcare, energy, automotive and 3D manufacturing.
UCD is also partnering with IBM to develop some of these technologies. The ENABLE S3 project is one such project, jointly supported by IDA and Enterprise Ireland. In this project IBM Research and UCD are developing automotive Cognitive IoT technologies.
During the colloquium a group of business and academic thought leaders explored disruptive ideas at the boundaries of Cognitive IoT through a series of plenary and TED-style talks.
Two of UCD's leading researchers in this area, Professor Barry Smyth, UCD School of Computer Science and Professor Mark O'Malley, UCD School of Electrical and Electronic Engineering, spoke at the colloquium along with with leading researchers from the University of Cambridge, the Technical University of Denmark and Glasgow University.
Speakers from IBM included; Dr Wendy Belluomini, Director, IBM Research, Ireland; Dr Lisa Amini, Director, Knowledge & Reasoning, Cognitive Research, IBM Research; Dr Jeff Rogers, Global Research Lead, Cognitive IoT for Healthcare, IBM Research; Dr Lea Deleris, Manager, Cognitive Computing Lead, IBM Research – Ireland and Gary Thompson, IBM Analytics.
UCD has strong research links with IBM which have been developed over many years. Last year the University's partnership with IBM resulted in the establishment of two new UCD-IBM collaboratories or co-labs, both of which are based in the UCD O'Brien Centre for Science.
The IBM Research co-lab will allow scientists from UCD and IBM to work closely together on technologies for the next generation of smart and sustainable cities. In addition the new software development co-lab will involve IBM software developers using cognitive computing technologies in collaboration with UCD researchers.
Through these two co-labs with IBM, UCD aims to develop and evaluate technologies at the University that will expand the capabilities to deliver innovative IoT solutions to Ireland and around the world.
ENDS
1 December 2016
For further information contactMicéal Whelan, Communications Manager (Innovation), University College Dublin, e: miceal.whelan@ucd.ie or t: +353 1 716 3712.
SHARE