Ireland Chapter of Project Management Institute Partners with BTYSTE to Provide Project Management Training for up to 90 Teachers
Ireland Chapter of the Project Management Institute (PMI) today announced a new partnership with the BT Young Scientist & Technology Exhibition (BTYSTE), in which they are investing up to €36,000 to provide teachers of this year's finalists with expert-led project management (PM) training.
The announcement was made at NovaUCD, the Centre for New Ventures and Entrepreneurs at University College Dublin.
This training will be fully funded by the Ireland Chapter of PMI. It is the first time that PM training sessions will be provided for the schools shortlisted to take part in the prestigious competition.
This partnership meets a need for foundational project management skills, essential not only for success at the BTYSTE, but to enable young scientists and entrepreneurs to commercialise their ideas and to bring their innovations to reality.
The Ireland Chapter of PMI will provide the training on a voluntary basis for up to 90 teachers prior to the BTYSTE at the RDS in January 2017. Teachers will be invited to attend one of three training days to be held at the Hilton Hotel, Charlemont Place, Dublin (9 November), Kemmy Business School, University of Limerick (10 November), and Rochestown Park Hotel, Cork (11 November).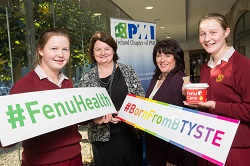 Pictured (l-r) at NovaUCD are Annie Madden, co-founder FenuHealth and BTYSTE prize winner, Mari Cahalane, Head, BT Young Scientist & Technology Exhibition, Jackie Glynn, PMI Educational Foundation Liaison Officer and Kate Madden, co-founder FenuHealth and BTYSTE prize winner
(Photograph: Naoise Culhane)
Speaking about the new training programme, PMI Educational Foundation Liaison Officer, Jackie Glynn said, "PMI's 8th Global Project Management Survey found that projects with a high priority on project management (PM), were 71% more successful in reaching their goals and original intent. This highlights the importance of PM in the workplace, therefore, we strongly believe that it should be a key aspect of our second level education. In the same way that the Coder Dojo movement believes that everyone should know how to code; we believe that everyone should have skills in project management, as no matter your profession you are either going to be part of a project team or lead a project."
"Also, entrepreneurship and project management go hand-in-hand – a great idea cannot become a reality without clear project management. This partnership with the BTYSTE is helping to address this gap in training, and ensuring that our brightest students are better positioned to make their brilliant ideas a viable business," added Ms Glynn.
The Ireland Chapter of PMI is making a commitment to ensure that PM training can be made available to second-level students. To this end, they are currently involved in a project to provide PM classes to Transition Year students.
Head of the BT Young Scientist & Technology Exhibition, Mari Cahalane says "The Exhibition, and our BT Young Scientist Business Bootcamp, provide a platform for young people not only to explore their original ideas but to also develop their projects into successful businesses. However, not all students are aware of the vital project management skills necessary to make this a reality. We are delighted that the Ireland Chapter of PMI is embarking on this important initiative which will provide expert and practical training on the successful development and execution of a project."
The PMI is the world's leading not-for-profit professional membership association for the project management profession, spearheading project management certification, education, research and training. More than 50,500 people are currently employed in project management related roles in Ireland.
ENDS
3 November 2016
For further information contact Micéal Whelan, University College Dublin, Communications Manager (Innovation), t: + 353 1 716 3712, e: miceal.whelan@ucd.ie, or Susie Horgan, Springboard PR & Marketing, t: + 353 (0)21 496 9000, e: susie@springboardpr.ie.
Editors Notes
The BT Young Scientist Business Bootcamp, designed and delivered by BT Ireland and University College Dublin, takes place each Spring at NovaUCD. It aims to equip students, who compete in the BTYSTE with practical skills and knowledge that will show them how a creative idea can be transformed into a viable business proposition.
SHARE