University College Dublin Researchers Win Three Awards at 2016 Science Foundation Ireland Science Summit
University College Dublin (UCD) researchers won three of the seven awards presented at Science Foundation Ireland's 2016 Science Summit. The event held earlier this week brought together over 400 leading members of the Irish research community.
The awardscelebrate the contribution of Science Foundation Ireland researchers to Science, Technology, Engineering and Mathematics during 2016.
The SFI Entrepreneurship Award, which recognises entrepreneurial achievements by SFI funded researchers, was awarded to Professor Brian Glennon and Dr Mark Barrett, co-founders of APC Ltd.
APC Ltd, a pharmaceutical research company, was established by Professor Glennon and Dr Barrett in 2011 as a spin-out from the UCD School of Chemical and Bioprocess Engineering. The company was the winner of the 2011 UCD Start-up of the Year Award.
Earlier this year the company announced the creation of 100 new jobs at the opening of its new world-class process research facility in Cherrywood, Dublin.
APC Ltd is also one of the industry partners with the SFI and industry-funded Synthesis and Solid State Pharmaceutical Centre (SSPC) at the University of Limerick.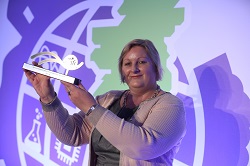 Dr Sharon Davin, Research Systems Manager, APC Ltd, who received the Award on behalf of Professor Glennon and Dr Barrett
The SFI Best Reported Impact Award, which recognises a researcher whose 2016 impact statement clearly demonstrates their commitment to maximising the impact of their research findings, was presented to UCD's Dr Emmeline Hill.
Groundbreaking research, funded by SFI, and led by Dr Hill, a leading genomics researcher at UCD's School of Agriculture and Food Science, resulted in the identification of what is now referred to as the 'Speed Gene'.
The announcement of the identification of the 'Speed Gene' in 2010, coupled with the launch by Dr Hill and Jim Bolger, the renowned Irish trainer and breeder, of Equinome, a UCD spin-out, has been transforming decision-making processes in the global bloodstock industry since then. In December 2015 Plusvital, the Irish equine nutrition company, acquired Equinome.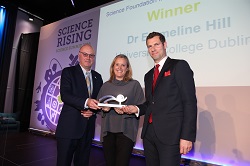 Professor Mark Ferguson, Director General, Science Foundation Ireland and Chief Scientific Advisor to the Government of Ireland, Dr Emmeline Hill and broadcaster Jonathan McCrea
The SFI Research Image of the Year, which celebrates images captured by Science Foundation Ireland funded researchers during the course of their research, was presented to Andrea Zanetti, a PhD student at UCD's School of Chemistry.

Andrea Zanetti, winner 2016 SFI Research Image of the Year,
The title of his picture is 'Organic "ChemisTree", a Telescopic View.'
The chemical reaction Andrea was trying to create is a known as a Sandmeyer reaction, which requires an excess amount of copper. The product of this reaction is an early-stage building block of a Lipoxin analogue, which is the aim of his PhD research project.
Lipoxins are naturally occurring anti-inflammatory molecules whose short life in vivo – where the effects of a biological process is tested in a living organism – renders them non-viable for use as a pharmaceutical drug.
Andrea's research is based on making molecules similar to the natural occurring Lipoxin. These changes should make the novel molecules more resistant while maintaining/improving their anti-inflammatory properties.

Andrea's winning image 'Organic "ChemisTree", a Telescopic View.'
Explaining why he decided to capture the image of the reaction, Andrea said, "Whenever I went to purify the reaction mixture that I had left in a round bottom flask, the small brown crystal caught my attention. By tilting the round bottom flask, I could see the whole crystal structures (most of it was previously submerged by the reaction mixture), and the resemblance to a tree was quite astonishing. That's when I decided it was worthwhile to take a picture of it."
He added,"By the evening when I finally got time to work…the copper salts (side product) had slowly grown (crashed out) in the shape of a tree from the green island (my product mixture). The blue sky background is due to the nitrile glove I was wearing."
Congratulating the award winners, Director General of Science Foundation Ireland and Chief Scientific Advisor to the Government of Ireland, Professor Mark Ferguson said, "Science Foundation Ireland is delighted to recognise and honour the excellent work and achievements of Irish scientific researchers in a number of fields. 2016 marks the addition of five new awards recognising crucial areas of research and development including: industry collaborations, entrepreneurship, communication, public engagement and outstanding early career researchers. I want to congratulate the award winners on their hard work and accomplishments. I hope their success will be a source of inspiration to others."
ENDS
16 November 2016
For further information contactMicéal Whelan, Communications Manager (Innovation), University College Dublin, e: miceal.whelan@ucd.ie or t: +353 1 716 3712.
Editors Notes
The other Science Foundation Ireland 2016 Science Summit Award winners were;
SFI Researcher of the Year: Professor Barry O'Sullivan, Director, Insight Centre for Data Analytics, SFI Research Centre, University College Cork
SFI Early Career Researcher of the Year: Professor Valeria Nicolosi, AMBER, SFI Research Centre, Trinity College Dublin and Dr Martin O'Halloran, National University of Ireland Galway
SFI Industry Partnership Award: AMBER, SFI Research Centre, Trinity College Dublin and Merck
SFI Outstanding Contribution to STEM Communication: Dr Sabina Brennan, Trinity College Dublin.
SHARE