Genomics Medicine Ireland Announces $40 Million in Series A Funding
Genomics Medicine Ireland (GMI), a life sciences start-up, today announced that it has closed a $40 million (€36 million) Series A funding round.
Investors in the round include the Ireland Strategic Investment Fund (ISIF), ARCH Venture Partners, Polaris Partners and GV (formerly Google Ventures).
The investment will be used to establish a world-class genomic research and development programme in Dublin and to create 150 highly-skilled jobs focused on advanced genomic research over the next 3-years.
Genomics Medicine Ireland is currently headquartered at NovaUCD, the Centre for New Ventures and Entrepreneurs, at University College Dublin (UCD).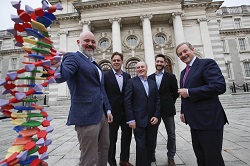 ‌
Genomics Medicine Ireland co-founders; Daniel Crowley, Paul Thurk, Dr Sean Ennis, UCD School of Medicine and Dr Maurice Treacy with An Taoiseach Enda Kenny TD
An Taoiseach Enda Kenny TD said, "I'm delighted to welcome the announcement by Genomics Medicine Ireland of a new world-class Genomic R&D Centre that will involve the creation of 150 new highly-skilled jobs. I'm particularly pleased that the Ireland Strategic Investment Fund is supporting this exciting endeavour. When the Government established the ISIF, we wanted to encourage new investment and job creation across Ireland in groundbreaking new sectors such as next generation healthcare solutions."
He added, "With the combination of world-class talent backed by global investors, I've no doubt that the scientific platform developed by Genomics Medicine Ireland will be leading the way on new prevention strategies and treatments for diseases and rare conditions."
This investment will enable GMI to undertake comprehensive population-scale genome studies. These will improve understanding of the genetic and lifestyle factors involved in disease, contributing to better diagnostics, more targeted therapies, and more effective prevention and wellness.
Daniel Crowley, acting CEO, GMI said, "We look forward to working closely with the Irish healthcare system to develop better diagnostics and new means to optimise health and patient outcomes. The size and characteristics of the Irish population can powerfully advance scientific discovery as researchers are able to pinpoint variations in DNA relevant to disease and useful for improving medicine."
Brendan Cremen, UCD Director of Enterprise and Commercialisation said, "I would like to congratulate the Genomics Medicine Ireland team on today's very significant investment and jobs announcement. The announcement demonstrates the strength, quality and impact potential of companies spinning-in to locate at UCD in order to collaborate with and benefit from engagement with the University's world-class research base."
Genomics Medicine Ireland is creating a scientific platform to examine the human genome in order to better understand the role of genetics in disease and rare conditions, and to lead to new prevention strategies and treatments.
The company expects to announce its first collaboration with an Irish hospital in the coming weeks and is actively engaged in talks with a number of clinical collaborators island wide.
Paul Thurk, Managing Director, ARCH Venture Partners Europe said, "We've seed-funded seminal genomics companies over the past 20 years, such as Illumina and deCODE genetics. GMI's strong team and experienced partners, combined with Ireland's very singular setting, can uniquely build off that core work to enable next generation medicine."
Paul Saunders, Head of Innovation, ISIF said, "We are very proud to be able to support this exciting opportunity alongside international co-investors of the calibre of ARCH, Polaris and GV. GMI has the potential to play a significant role, in collaboration with the Irish healthcare system, in the identification of transformative treatments for a range of diseases that have eluded effective treatment to date. We look forward to GMI developing into a company of international significance and establishing Ireland as a global leader in precision medicine and next generation healthcare."
ENDS
26 October 2016
For further information contact Micéal Whelan, University College Dublin, Communications Manager (Innovation), e: miceal.whelan@ucd.ie, t: + 353 1 716 3712.
SHARE