Seven University College Dublin Research Projects Awarded Commercialisation Funding by Science Foundation Ireland
Minister for Jobs, Enterprise and Innovation, Mary Mitchell O'Connor TD, has announced funding for seven (7) University College Dublin (UCD) research projects, which will facilitate the commercialisation of research across a range of disciplines in science, technology, engineering and maths (STEM).
The UCD projects are among a total of 37 projects, from 9 institutions across Ireland, which are receiving a total of €4.6 million under Science Foundation Ireland's (SFI) Technology Innovation Development Award (TIDA) programme.
This programme, run in collaboration with Enterprise Ireland, supports researchers undertaking applied research projects that demonstrate potential for strong economic impact. Running since 2009, the programme provides project development funding and training in entrepreneurship skills to third-level researchers, to support them in exploring commercial opportunities associated with their research.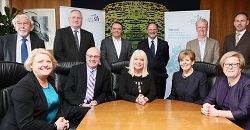 Professor Mark Ferguson, Director General, SFI and Minister Mary Mitchell O'Connor TD and members of the SFI Board at the announcement of the latest funding awards under the SFI TIDA programme
Minister Mary Mitchell O'Connor TD said, "I am delighted to announce this investment in research commercialisation and entrepreneurship training, through the SFI TIDA programme. It will enable the research teams to take the first steps in developing new discoveries and inventions with commercial potential."
"As outlined in the Irish Government's science strategy, Innovation 2020, we are committed to having one of the most highly skilled and innovative workforces in the world. With SFI-funded researchers receiving entrepreneurship training as part of these awards, we are helping to bring scientific and technological research to market."
Professor Mark Ferguson, Director General of Science Foundation Ireland and Chief Scientific Adviser to the Government of Ireland, said, "Science Foundation Ireland is committed to investing in the translation of world-class research from the laboratory to market. We regularly see high quality research discoveries that are likely to have strong economic impact potential; a key objective for Science Foundation Ireland is to increase the number of these discoveries that secure follow-on public or private investment."
"The SFI TIDA programme plays a key role in this process by providing funding to develop technologies, and by delivering training in entrepreneurship to support Ireland's next generation of technology start-ups."
The UCD researchers who are receiving funding and the title of their projects are as follows:
Professor David Brayden, UCD School of Veterinary Medicine, Silica nanoshells for oral peptide delivery - widening the platform.
Dr Andrew Phillips, UCD School of Chemistry, Development of regenerative and systematically upgradable antibiotic polymers.
Professor Eoin Casey, UCD School of Chemical and Bioprocess Engineering, Development of continuous spatially distributed diafiltration for pharmaceutical synthesis.
Professor Walter Kolch, UCD School of Medicine, Next generation ex-vivo functional predictive assays for high grade serous ovarian cancer screening: three dimensional, multicellular drug screening using lab on a chip technologies.
Dr Madeline Murphy, UCD School of Medicine, Development of a novel assay for sensitive and accurate detection of early stage kidney disease via exploitation of an hypoxia inducible protein.
Dr Margaret McGee, UCD School of Biomolecular and Biomedical Science, Novel anti-inflammatory biotherapeutic development.
Professor Declan Gilheany, UCD School of Chemistry, Platform for microRNA drug synthesis.
The SFI TIDA programme is designed to enable researchers to focus on the initial stages of an applied research project, facilitating researchers with the opportunity to demonstrate the technical feasibility of their project, directed toward the development of a new or innovative technology, product, process or service that has potential for further commercial development.
Under the latest SFI TIDA programme announced, the other 30 research projects, in addition to UCD which were funded is as follows; National University of Ireland Galway (8), Tyndall National institute (1), University College Cork (3), Cork Institute of Technology (1), Trinity College Dublin (11), Dublin City University (3), Dublin Institute of Technology (1) and the Royal College of Surgeons (2).
ENDS
10 April 2017
For further information contact Micéal Whelan, University College Dublin, Communications Manager (Innovation), e: miceal.whelan@ucd.ie, t: + 353 1 716 3712 or Donna McCabe, Science Foundation Ireland, e: donna.mccabe@sfi.ie
Editors Notes
Science Foundation Ireland funds oriented basic and applied research in the areas of science, technology, engineering, and mathematics (STEM) which promotes and assists the development and competitiveness of industry, enterprise and employment in Ireland. The Foundation also promotes and supports STEM education and engagement, and creates awareness and understanding of the value of STEM to society and to the growth of the economy.? www.sfi.ie
Established in 1854, University College Dublin (UCD) is Ireland's largest university with over 30,000 students from some 120 countries worldwide and is ranked number 1 globally for citations at scale for research in agricultural science and in food science and technology. Founded on the educational principles of its first Rector, John Henry Newman, the university seeks to contribute to the economy and society through the excellence and impact of its research, innovation and scholarship, the quality of its graduates and through its engagement nationally and internationally. www.ucd.ie/
SHARE