Entries Open for 2017 DatSci Awards Across 8 Categories
- University College Dublin and Next Generation statistics indicate unprecedented demand for analytic roles in next few years
Entries are now open, across 8 categories,forthe 2017 DatSci Awards, which are hosted by Next Generation in association with CeADAR, the University College Dublin (UCD)-led Centre for Applied Data Analytics Research.
The Awards celebrates a bright future for Ireland as a prominent and respected global voice in one of the fastest growing sectors and this unique event is a central building block in Ireland's journey to becoming a European Data Science Hub.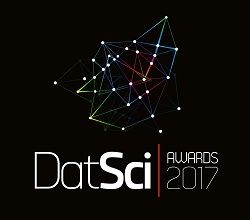 Data science and analytics are rapidly becoming big business in Ireland. It has been estimated that there will 40,000-60,000 analytics roles in Ireland by 2020, with a large proportion in "emerging" roles, including both deep analytics roles and "analytics-savvy" roles.
In recent years many multinational corporations such as Deutsche Bank, Zalando, IBM, Aon and Citi have positioned their global analytics centres of excellence in Ireland. There has also been the recent creation and expansion of analytics centres by Deloitte, IBM, SAS, and AON.
The growth of importance in data science roles is also borne out by UCD data which shows a 40% rise in enquiries about data science-related courses with applications up 65% when compared to the same time last year.
In addition Next Generation is experiencing triple the demand for analytics talent compared to this time 12 months ago.
This year marks a significant increase in both the size and scale of the DatSci Awards reflecting the growth of the sector and will feature 8 awards in 8 different categories. In addition a level 9 industry scholarship in the UCD Michael Smurfit Graduate Business School is being introduced. This offer is for 2017/18 candidates applying for UCD's MSc Business Analytics, with a chance to win a scholarship to cover full-time EU Fees worth up to €13,350.
"The analytics sector is growing quickly in Ireland and businesses are increasingly telling us they want to hire more people who have deep analytical skills, an understanding of business needs and customer needs, and an ability to make a connection between the two. That's what the UCD Michael Smurfit Graduate Business School MSc in Business Analytics aims to produce," said Dr James McDermott, Course, Director.
Linda Davis, CEO, Next Generation Recruitment, recognising the increasing importance of data science across a number of different sectors said, "It is really wonderful to see the evolution of data science as a business tool and how the use of this data is making major impacts in the field of health, sport and general commerce. It is a very special evolution that is happening and I can't wait to look back in years to come to see how data science has contributed to the world as a whole."
The 2017 DatSci Award categories are as follows:
- Data Scientist of the Year, sponsored by Deloitte, title sponsor
- Data Science Student of the Year, sponsored by Core Media
- Best Use of Data to achieve Social Impact, sponsored by Deutsche Bank
- Best Contribution to Data Science from an Academic Research Body
- Best Use of Data Science in a Start-up
- Best Use of Data Science in an SME
- Best Use of Data Science in a Large Company, sponsored by FTI Consulting
- Best Use of Data Science in a Public Sector Body.
Closing date for entries is 31 May 2017. The categories will be judged by a panel 20+ Data Science leaders.
The Awards final will take place on 21 September in Croke Park and will bring together more than 400 data science industry leaders and honour those who have accomplished and contributed most in the rapidly expanding field of data science and analytics.
Further information about the Awards is available via www.datsciawards.ie.

ENDS
18 April 2017
For further information contact Micéal Whelan, University College Dublin, Communications Manager (Innovation), e: miceal.whelan@ucd.ie, t: + 353 1 716 3712 or Paul Hayes, Beachhut PR, e: paul@beachhutpr.com or Emma Quinn, Next Generation, e: emma.quinn@nextgeneration
Editor's Notes
Next Generation is an international specialist recruitment company with a proven track record of sourcing and selecting best fit talent. www.nextgeneration.ie
Technology centres such as the Centre for Applied Data Analytics Research (CeADAR) serve the interests of industry by conducting programmes of applied research, of commercial interest to specific sectors. To facilitate this merging of industrial need and academic know-how, Enterprise Ireland and IDA conducted an industry consultation period of over one year to identify the most pressing needs in Data Analytics which informed a Detailed Description of Needs (DDN).
In response to this DDN, a team of researchers from UCD in partnership with DIT proposed to establish a new Technology Centre within this domain because of the economic importance of this area nationally. CeADAR was established in November 2012 and is headquartered at NexusUCD, the Industry Partnership Centre. www.ceadar.ie
SHARE