Corlytics Selected by Allen & Overy for Fuse Programme in London
Corlytics is among eight companies selected by law firm Allen & Overy to take part in its Fuse programme in London.
Fuse is a newly launched innovation space where Allen & Overy lawyers and technology firms team up to develop legal, regulatory and deal-related improvements.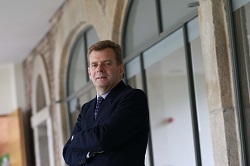 John Byrne, CEO, Corlytics Group
Corlytics, global leaders in regulatory risk intelligence, was selected for its advanced Artificial Intelligence (AI) modelling that it has used to develop the world's deepest regulatory enforcement database.
The internal team at Corlytics is already made up of leading data scientists, seasoned technologists, proven banking risk practitioners and expert lawyers, making integration into the broader Fuse eco-system a natural fit. The Corlytics team is already working with regulators and tier one banks, providing regulatory risk intelligence and compliance heat maps.
Having been selected to join Fuse, Corlytics is looking to make the most of the expertise within Allen & Overy. This will allow Corlytics to further access the market, receive expert mentoring for its legal teams and insight on optimising its risk intelligence.
Over 80 RegTech and LegalTech firms applied to join the programme with multiple companies giving pitches, before the successful eight were selected. The companies were asked to present to a series of regtech and legaltech experts from Allen & Overy, Balderton Capital, The Funding Circle, JP Morgan and Amazon.
From September, the selected firms will work in a specially-designed area, housed within Allen & Overy's London offices. Once in residence, firms will have access to the expertise of Allen & Overy lawyers, technologists and clients to co-operate on developing practical solutions to some of the troubles faced by financial institutions and law firms today.
In June Corlytics, whose Irish headquarters are at NexusUCD, the Industry Partnership Centre, at University College Dublin, announced the launch of Corlytics Solutions Limited. Corlytics Solutions, based in London, is focusing on solutions to help global banks, regulators and financial services players to manage and mitigate financial risk.
Mike O'Keeffe, Corlytics Solutions, General Manager, said, "We are very excited about the opportunity to work in Fuse. Allen & Overy has proven itself to be to the forefront of the legal and regtech revolution. We believe that this is a great opportunity for Corlytics to benefit from the guidance and experience of A&O technologists and lawyers to further our global regulatory taxonomies, and interpretation of regulations. We believe that A&O and Corlytics have a unique opportunity to bring combined offerings to market to the benefit of both A&O's and Corlytics' customers."
Jonathan Brayne, Chairman, Fuse, Allen & Overy, commented, "The selection process has been an extremely interesting and rewarding experience. Now we're just really looking forward to welcoming the companies into the space next month, introducing people from A&O and our clients' businesses to it and, ultimately, helping shape what emerges from the Fuse environment."
Shruti Ajitsaria, Head of Fuse at Allen & Overy, said, "This is an impressive roster of companies, which span a variety of technologies and departments. We chose the successful applicants based on whom we feel we have natural synergies with. We're now preparing for Fuse to open so that we can begin to explore, test and develop the solutions that these companies offer."
The other seven companies selected for the programme are;
Avvoka, a digital platform incorporating a contract creation, workflow and analytics tool.
iManage, previously known as RAVN, a business developing natural language processing and machine learning technology to organise, discover and summarise documents.
Ithaca, a charitable not-for-profit enterprise aiming to create a mobile-responsive online technology platform to assist asylum seekers in gaining access to pro bono legal representation and advice.
Legatics, a company that turns 'paper and email' based legal processes into simple and innovative software.
Nivaura, which is developing an automated and vertically integrated cloud based service for the issue and administration of financial instruments by small and medium-sized issuers.
Opus 2 International, originally a developer of litigation and transcript management software, now developing a tool to support lawyers with the prospectus verification process.
Vable, a provider of content aggregation, automation and intelligence software.
Three areas of innovation have been fast developing for the legal sector: technology supporting legal advice, law firms and in-house legal functions; technology supporting regulatory compliance; technology changing how companies and financial institutions transact and negotiate deals with each other.
ENDS
25 August 2017
For further information contact Micéal Whelan, University College Dublin, Communications Manager (Innovation), t: + 353 1 716 3712, e: miceal.whelan@ucd.ie, or Jo Cresswell, Milk and Honey PR, e: jo@milkandhoneypr.com.
Editors Notes
Corlytics is the world's leading provider of regulatory risk intelligence. Corlytics works in partnership with banks, regulators and eminent financial institutions globally. Enabling a more transparent and stable financial system through greater regulatory planning. By delivering world class regulatory risk data and analytics, it empowers its partners to make transformational, informed, positive choices. Protecting themselves from unexpected exposures and fines. www.corlytics.com
For further information on Allen & Overy visit www.allenovery.com/
For further information on Fuse visit www.allenovery.com/advanceddelivery/fuse/
NexusUCD is the Industry Partnership Centre at University College Dublin. NexusUCD, is located in Belfield Office Park, Clonskeagh, adjoining the main UCD campus. It offers high-quality modern office space, with short, medium or long term occupancy arrangements, and associated services to established innovation-led companies who are collaborating, or wish to collaborate, with UCD's world-class research base. By locating at NexusUCD companies, such as Corlytics, can benefit from close proximity to and interaction with UCD academics and researchers. www.ucd.ie/nexusucd
SHARE