Breaking Ground: Initiative Ireland's Syndicate Members provide €1.5m, to finance Ireland's 1st Peer-to-Peer Funded Property Development
- €1.5m raised to finance new social housing development in D1
- Single largest peer to peer loan approved in Ireland to date
- Initiative Ireland is now Ireland's 2nd Largest P2P Lender
Initiative Ireland today announced it has closed Ireland's first Peer to Peer property-backed loan of €1.5m, positioning the finance company as Ireland's 2nd Largest Peer to Peer Lender. The loan was made to North Strand Five Lamps limited, to finance a social housing development in Dublin 1, consisting of 10 apartments and a ground floor cafe. With full planning in place, the development is expected to deliver the units to the market in late 2018.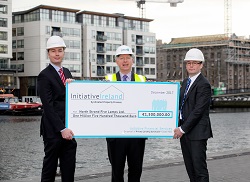 Padraig W. Rushe, CEO of Initiative Ireland said, "At a time when many sophisticated investors are looking to diversify beyond equity, we're making secured real estate debt accessible to investors through our syndicated finance platform. We've already seen solid demand from our Private and Institutional Members, with many indicating their intention to commit additional funds via the platform. Since launching the platform in October, we've seen high volumes of new borrowers and lenders attracted by our Peer to Peer, Property Backed Loans."
Peer to Peer Lending
Peer to Peer lending, which has become popular in the US and UK, (where it now exceeds £3.2bn) enables individuals and institutions to pool funds and collectively finance loans together, as an alternative method of offering finance to businesses and individuals. Traditionally, peer to peer lenders offer unsecured, high-cost loans to businesses which are otherwise unable to secure finance. In contrast, Initiative Ireland offers market leading loans, at mainstream finance rates, to attract experienced property developers. In return for the attractive borrowing rates, these developers provide a first legal charge over their properties to the company, which is held from day one for the benefit of Initiative Ireland's Private Lending Syndicates.
Padraig W. Rushe, said, "I began my career in Financial Crime Prevention and Risk Management, focussed on protecting vulnerable customers. For years, I've held the belief that peer to peer finance can help address the extreme inequalities in the Irish financial system, but I've also been concerned by the level of hidden risk posed to individual lenders and the lack of security offered to back these loans. That's why at Initiative Ireland, we've combined peer to peer finance with property-backed secured lending; to offer clients fair returns, while also providing them with additional transparency and capital security."
Supporting Family Homes
The first loan of its kind in Ireland, at €1.5m it is the single largest peer to peer loan approved in Ireland to date. It is the first of many according to the CEO, with the company aiming to finance up to €60m by the end of 2018, supporting the construction of over 250 new family homes.
He added, "Feedback from private members has been extremely positive. Experienced peer to peer lenders find our rates very attractive compared to unsecured business loans they've funded in the past. First time lenders have responded positively not just to the attractive rates offered, but also to the idea that they can do something to help fund the building of additional homes across Ireland. At our rates, even small projects become viable where before they were priced out of the market… so our members are helping to make a difference."
As Private Lending Members, individuals and institutions can sign-up for free to view loans via the platform, which are pre-approved by the company's experienced Credit Committee prior to listing via their digital platform. As an approved Private Lender, individuals can earn returns of 3.00% to 8.00% APR on their committed funds, dependent on the risk tier and loan term they select.
Each loan is secured with a first legal charge over the properties and whilst committed funds accrue interest monthly, these are only released to the borrower on a phased basis. We approve the release of funds provided we are satisfied with the ongoing reports from our appointed Quantity Surveyors and Relationship Management Team. This helps to ensure the release of funds occurs in line with the completion of works and scheduled increasing value of the site. Funds lodged via the platform are held by MangoPay, the company's regulated European Payment Provider, with whom they have partnered. All loans are secured with a first legal charge over Irish real estate, which is held in trust by Initiative Ireland Nominees Limited, a trust and service company authorised by the Department of Justice and Equality of Ireland.
Fair Borrower Rates to attract Quality Projects
Initiative Ireland aims to provide competitive terms and rates, exclusively to experienced property developers. Primarily focused on residential developments which have full planning in place, the company will consider loans of up €10m. Each loan is carefully assessed and pre-approved by an internal credit risk committee prior to syndication amongst members and must meet those standards set by the company and their Primary Credit Partners.
He concludes, "We believe finance should be honest, fair and inclusive. That commitment extends to our borrowers and our lenders alike. By offering attractive rates to borrowers, we can attract experienced developers offering compelling projects and security. By offering fair returns to our lenders, with full transparency of risk and additional security protection, we aim to build lasting trust and a sustainable, shared future."
ENDS
7 December 2017
For more information contact Michelle Doyle, University College Dublin, Communications Manager (Innovation), t: + 353 1 716 3712, e: michelle.doyle@ucd.ie or Padraig W. Rushe, CEO, Initiative Ireland, e: team@initiativeireland.ie or t: +353 1 685 9259.
Editors Notes
Initiative Financial Services trading as Initiative Ireland is a financial services company. It acts as Loan Agent on all loans. As a Private Lender with the company, members can lend as part of a Private Lending Syndicate, in return for a share of the issued loan and interest income. Members will be able to tailor their loan portfolio in line with their own risk-reward appetite, choosing which pre-approved loans to fund and opting to finance senior and/or subordinate debt, to achieve their financial goals. www.initiativeireland.ie
Initiative Ireland Nominees Limited is a trust and company service provider, authorised by the Department of Justice and Equality of Ireland. It acts as the Security Agent, holding a first legal charge over the funded properties in trust for the Private Lending Syndicate Members. www.IIN.ie
Initiative Ireland is a partner of MANGOPAY, a public limited liability company incorporated in Luxembourg (Number B173459) and approved as an electronic money institution by the Financial Sector Regulator (CSSF), Luxembourg.
At NovaUCD, the hub for new ventures and entrepreneurs at University College Dublin, we nurture and support new high-tech and knowledge-intensive companies as part of UCD's mission. At NovaUCD we provide purpose-built, state-of-the-art incubation facilities alongside a comprehensive business support programme for client companies such as Initiative Ireland. NovaUCD has been funded through a unique public-private partnership that includes AIB Bank, Arthur Cox, Deloitte, Enterprise Ireland, Ericsson, Goodbody Stockbrokers, UCD and Xilinx. www.ucd.ie/novaucd
Padraig W. Rushe is CEO of Initiative Ireland and Managing Trustee of Initiative Ireland Nominees Limited. He governs all risk, commercial and operational policy within the company. With over 15 years' experience, he has held Senior Risk and Commercial Management roles within the financial services industry, having worked with Ulster Bank, GE Money and Bank of Ireland. He has proven experience managing regulated financial product portfolios within the UK and Ireland. Prior to founding Initiative Ireland he worked as a Chief Commercial Officer for Neuromod Devices, a successful Irish medtech firm. He holds an MBA with Distinction from Trinity College, a BA Honours from UCD and is an accredited product advisor for Mortgages, Loans, Savings, Insurance and Investments as certified by the LIA & UCD.
SHARE