TEDxUCD 2017- Videos Go Live
University College Dublin (UCD) held its fifth annual TEDxUCD event, organised by volunteers from the UCD Research and Innovation team based at NovaUCD, earlier this month in the UCD Dramsoc Theatre.
The 12 speakers who took part in TEDxUCD 2017 were members of the UCD community of researchers, students, alumni and friends who spoke on a wide range of ideas worth spreading on the overall theme of 'inspiration'.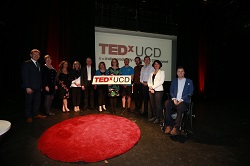 Click here to watch the 12 videos of all the TEDxUCD 2017 talks.
Opening this year's event, Tom Flanagan, Director of Enterprise and Commercialisation said, "Following the success of our previous TEDxUCD events I am delighted that we are hosting our fifth annual TEDx event at University College Dublin. Organising and running TEDxUCD is an excellent example of how we engage with the general public, not only in Ireland but across the world, to share the ideas, knowledge and expertise emanating from members of the UCD community."
The individual videos are also available to view via the links below.
Eimear Cahalin a UCD graduate and co-founder Vivid Edge.
Stephen Cluskey was a student in UCD, and is CEO and co-founder Mobility Mojo.
Dr Amber Cushing is an Assistant Professor at the UCD School of Information and Communication Studies.
Dr Monica Gorman is a Lecturer in the UCD School of Agriculture and Food Science.
Dr Bahareh Heravi is Assistant Professor at the UCD School of Information and Communication Studies.
John Francis Leader is a Consultant Psychologist and Cognitive Scientist, at the UCD School of Computer Science.
Dr Antonio Martin-Carrillo is a Lecturer, UCD School of Physics.
Dominic O'Connor is a PhD Student at the UCD School of Public Health, Physiotherapy and Sport Science.
Siobhan McDonald is Artist in Residence at the UCD School of Biology and Environmental Science.
Dr Mark Rowe is a Medical Doctor at Waterford Health Park.
Colin Keogh is a PhD Student, UCD School of Mechanical and Materials Engineering.
Prof Mary Horgan is President of the Royal College of Physicians of Ireland.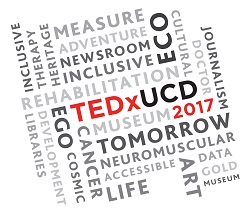 At TEDxUCD 2017 a combination of live speakers and a selection of TED Talks videos were combined to spark deep discussion and connection in a small group of 100 attendees. The TED conference provides general guidance for the TEDx programme, but individual TEDx events, including TEDxUCD, are self-organised.
@TEDxUCD and #TEDxUCD.
ENDS
18 December 2017

For further information contact Michelle Doyle, University College Dublin, Communications Manager (Innovation), e: michelle.doyle@ucd.ie or t: + 353 1 716 3712.
SHARE