Ireland's Future Entrepreneurs Take Their Place at the 2017 BT Young Scientist Business Bootcamp
- BT's annual business mentoring and skills camp begins at NovaUCD
Some of the best young business minds in the country are getting ready to be put through their paces at the 2017 BT Young Scientist Business Bootcamp which kicked-off today at NovaUCD.
Now in its 8th year, this four-day Bootcamp will see 30 students from across the island of Ireland participate in a mentoring and skills programme that will help them to understand how to develop a project idea into a commercially viable business.
Over the four days the students will learn the fundamentals of critical business applications such as patenting, business development, sales, marketing and presentation skills.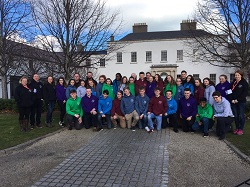 Pictured at NovaUCD are participants on the 2017 BTYSTE Business Bootcamp
The students participating in this year's Bootcamp were hand-picked from the 2017 BT Young Scientist & Technology Exhibition which took place in January. This year, 16 schools from across the island of Ireland will be represented spanning 10 counties – Cork, Dublin, Galway, Kilkenny, Limerick, Derry/Londonderry, Louth, Offaly, Tipperary and Westmeath.
The Bootcamp is designed and delivered by BT Ireland and University College Dublin.
Shay Walsh, Managing Director, BT Ireland said, "Each year, the brightest young minds in the country walk through the doors of the RDS for the BT Young Scientist and Technology Exhibition, many of whom are aspiring entrepreneurs with excellent business ideas, but who are simply lacking the knowledge and skills to take their project ideas to the next stage."
"The Bootcamp equips these students with the tools and more importantly, the confidence, to hopefully make the leap into business and we are so proud to be able to play a part in helping these young people to realise their potential."
The students will be divided into six teams to work on an award winning project from this year's BT Young Scientist & Technology Exhibition, for which they will need to develop a business pitch for a panel of judges.
Each team will be coached by a dedicated BT business mentor and will enjoy inspiration from key speakers including:
- Aisling Judge – winner of the BT Young Scientist & Technology Exhibition 2006
- Daniel Hobbs– entrepreneur, past participant of BT Business Bootcamp and co-founder of BetterExaminations.ie
- Rhona Togher, top 4 winner of BTYSTE 2009 and CEO, Restored Hearing
- Jonathan McCrea – award winning TV and radio broadcaster
- Naoise Gaffney – senior patents council, Intellectual Ventures.
The projects for this year's Bootcamp include:
Foal sickness containment and prevention - Investigated foal sickness, containment and prevention and made a sensor to detect early illness.
LifeStats - A multi-award-winning web-app/IoT network that aims to augment people's lives using statistics and provide cost-effective contextual-advertising for local businesses without the need for user tracking.
MiContact - An app based on applied behaviour analysis to enhance early intervention programs and encourage children with autism make eye contact.
Ergonomic Planter - A device that will improve planting in developing countries by allowing users plant with increased safety, consistency and speed using an ergonomically designed portable planter.
Unlicensed to Kill - A device to prevent unlicensed drivers from endangering others on our roads by not being able to even start a car without a valid license.
The Bootcamp will culminate on Thursday 2March, when the teams will present their business plans to a judging panel comprised of academics and senior business professionals.
ENDS
27 February 2016
For further information contact contact Micéal Whelan, University College Dublin, Communications Manager (Innovation), t: + 353 1 716 3712, e: miceal.whelan@ucd.ie. or Gina Kelly, senior PR & Corporate Relations Manager, BT Ireland, t: +353 86 780 5451.
Notes to Editor:
The judging panel for the 2017 BT Young Scientist Business Bootcamp is comprised of accomplished business professionals who invest their time freely to impart their commercial knowledge and experience on the students. This year's members are:
- Shay Walsh, Managing Director, BT Ireland
- Dr Tony Scott, co-founder, BTYSTE
- Emma McNamara, RTE reporter
- Gearoid Mooney, Divisional Manager - Research & Innovation, Enterprise Ireland
- Malcolm Byrne, Head of Communications, Higher Education Authority.
BT's purpose is to use the power of communications to make a better world. It is one of the world's leading providers of communications services and solutions, serving customers in 180 countries. Its principal activities include the provision of networked IT services globally; local, national and international telecommunications services to its customers for use at home, at work and on the move; broadband, TV and internet products and services; and converged fixed-mobile products and services. BT consists of six customer-facing lines of business: Global Services, Business and Public Sector, Consumer, EE, Wholesale and Ventures, and Openreach.
For the year ended 31 March 20161, BT Group's reported revenue was £19,012m with reported profit before taxation of £2,907m. British Telecommunications plc (BT) is a wholly-owned subsidiary of BT Group plc and encompasses virtually all businesses and assets of the BT Group. BT Group plc is listed on stock exchanges in London and New York.
1The results for the period have been revised to reflect the outcome of the investigation into our Italian business. Detail of which is set out in our third quarter results announcement published on 27 January 2017. This financial information is unaudited. www.btplc.com
At NovaUCD, the hub for new ventures and entrepreneurs at University College Dublin, we nurture and support new high-tech and knowledge-intensive companies as part of UCD's mission. At NovaUCD we provide purpose-built, state-of-the-art incubation facilities alongside a comprehensive business support programme for client companies. UCD's technology transfer team, which is responsible for the commercialisation of intellectual property arising from research and other knowledge-intensive activity at UCD, is also based at NovaUCD. NovaUCD has been funded through a unique public-private partnership that includes AIB Bank, Arthur Cox, Deloitte, Enterprise Ireland, Ericsson, Goodbody Stockbrokers, UCD and Xilinx. www.ucd.ie/novaucd
SHARE