Founder of THEYA Healthcare Shortlisted for 2017 Cartier Awards
Irish entrepreneur, Ciara Donlon, founder and CEO of THEYA Healthcare, the award-winning medical device company, has been shortlisted as a finalist for the prestigious 2017 Cartier Women's Initiative Awards.
Ciara is the only Irish entrepreneur shortlisted for the European Award category alongside an entrepreneur from Russia and an entrepreneur from the UK.
The Cartier Women's Initiative Awards are an international business plan competition created in 2006 to identify, support and encourage projects by women entrepreneurs. The initiative aims to encourage inspirational women entrepreneurs worldwide to solve contemporary global challenges.
THEYA Healthcare, which was formally launched by Ciara Donlon in 2015, designs and manufactures healthcare garments. The company's flagship post-surgery lingerie range, designed primarily for use by breast cancer patients, retails across Ireland, the UK and has also been launched in Europe and Canada.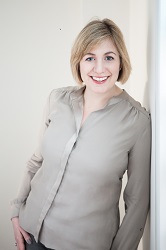 Ciara Donlon, founder and CEO, THEYA Healthcare
THEYA Healthcare uses a unique fabric mix made from OEKO-TEX® bamboo, which is ideal for post-operative products as it is anti-bacterial, thermally regulating, 59% more absorbent than cotton and extremely soft thus helps reduce skin irritation. The design of the THEYA Healthcare range focuses on comfort, support, femininity, functionality and the promotion of healing.
THEYA Healthcare, which is headquartered at NovaUCD, the Centre for New Ventures and Entrepreneurs at University College Dublin, is an Enterprise Ireland high potential start-up (HPSU) client company.
Ciara Donlon, founder and CEO, THEYA Healthcare said, "It's a huge honour to have been chosen by Cartier as one of the 3 European finalists for such a prestigious worldwide award. I set up THEYA Healthcare because I wanted to help women undergoing breast cancer treatment feel better about themselves and heal faster, for that to be acknowledged by an organisation like Cartier means a lot. Hopefully more women who can benefit from our products will now have a chance to access them."
Ciara Donlon has been shortlisted in the2017 Cartier Women's Initiative Awards, Europe category alongside Marina Ross, CEO, Nanobarrier (Russia) and Lise Pape, CEO, Walk with Life (UK).
The winners of the 2017 Cartier Women's Initiative Awards will be announced at the Awards Week and Ceremony which takes place in Singapore from 8-13 April.
To find out more about Ciara Donlon visit www.cartierwomensinitiative.com/candidate/ciara-donlon.
ENDS
9 February 2017
For further information contact Micéal Whelan, University College Dublin, Communications Manager (Innovation), e: miceal.whelan@ucd.ie, t: + 353 1 716 3712 or Eileen Rainsberry, THEYA Healthcare, Marketing Director, e: eileen@theyahealthcare.com, t: + 44 77 1440 3218.
Editors Notes
Ciara Donlon graduated in 1999 from Trinity and DIT with a BSc in Management and an Advanced Diploma in Marketing Techniques. She is a business woman with over 15 years' experience working in marketing roles in companies including RBS, Irish Life & Permanent and Vodafone as Head of the Online Channel. Ciara entered the lingerie industry when she set up her own lingerie boutique in 2010. After learning the business inside out and researching the gap in the post-surgery lingerie market, THEYA Healthcare was established in 2014.
In 2015 Ciara came runner-up in the Image Magazine Business Woman of the Year Awards 2015 in the Start-up Category, she was awarded the title of Best Innovative Start Up 2015 by the DCU Ryan Academy, she won a bronze medal at the BOI Start-up Awards in the Innovation Category in November 2015 and THEYA is an SFA winner in the Emerging New Business Category for 2016. Ciara is also a member of the Professional Woman's Network (PWN).
THEYA Healthcare is an Irish manufacturer of healthcare garments and has been trading since 2015. At every stage of product development THEYA Healthcare seeks input from both patients and healthcare professionals to ensure that its range best meets the needs of its customers. www.theyahealthcare.com
The Cartier Women's Initiative Awards are an international business plan competition created in 2006 to identify, support and encourage projects by women entrepreneurs. The initiative is a joint partnership project initiated by Cartier, the Women's Forum, McKinsey & Company and INSEAD business school. Each partner brings its expertise to the initiative: Cartier plays a leading role in the organisation of the competition and provides coaching and funding for the projects. The Women's Forum provides important visibility and networking opportunities for the finalists. McKinsey & Company and INSEAD coach the finalists. www.cartierwomensinitiative.com
At NovaUCD, the hub for new ventures and entrepreneurs at University College Dublin, we nurture and support new high-tech and knowledge-intensive companies as part of UCD's mission. At NovaUCD we provide purpose-built, state-of-the-art incubation facilities alongside a comprehensive business support programme for client companies such as THEYA Healthcare. NovaUCD has been funded through a unique public-private partnership that includes AIB Bank, Arthur Cox, Deloitte, Enterprise Ireland, Ericsson, Goodbody Stockbrokers, UCD and Xilinx. www.ucd.ie/novaucd
SHARE