Plusvital Launches New Racing GenePak to Give Trainers the Edge
Research on the winning margins in British Thoroughbred racehorses1, conducted in the UK and published in 2016, found that the average winning margin between first and second is just 0.32%. It is no wonder then that every small improvement can help Thoroughbred trainers and owners gain a significant edge over the competition.
With this in mind, Plusvital, the Irish equine science company, which in 2015 acquired Equinome, the University College Dublin (UCD) equine genomic testing company, today announced the launch of Racing GenePak.
The Racing GenePak provides objective and scientific information to support training and race entry decisions. It combines Plusvital's most popular genetic tool, the Speed Gene Test, with the more advanced Distance Plus Test, which predicts a horse's optimum race distance to within a couple of furlongs.
The quality of the information provided makes these tests the leading genetic tools for racehorse trainers available on the market.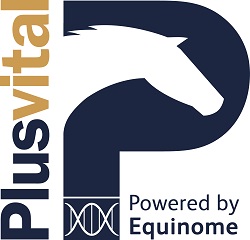 Mike Shelly, Plusvital, CEO, said, "The launch of this new genetic test offer by Plusvital makes it easier than ever for our clients to gain an edge with the amount of information we can provide from their horse's DNA. This combination of tests alone can help a trainer determine a horse's optimum race distance, increase their strike rates and even manage expectations on two-year-old performance."
He added, "Overall, we feel the additional information in these tests will further strengthen the use of this technology across the industry, where it is used as a tool to complement existing horsemanship and pedigree analysis."
He concluded, "We're really pleased with the revised price we're able to offer the Speed Gene Test and Racing GenePak at. Never has genetic testing for Thoroughbred horses been so accessible to all trainers and owners."
The most high-profile example of the use of Plusvital's genetic information for a horse in training was the decision to withdraw Galileo Gold from the 2016 Derby following confirmation that he tested as a C:C sprint type. Galileo Gold has continued to excel at a mile following that decision, including winning the 2016 St. James' Palace Stakes at Royal Ascot.
This is just one example of the over 14,000 Thoroughbreds that have been tested by Plusvital to date.
Plusvital has an on-going, multi-million euro genomic and nutrition research programmme, with an increased focus on the potential to use genetic testing to identify horses with a predisposition to health conditions, a key industry concern highlighted by Thoroughbred breeders.
Plusvital is headquartered in Dublin with offices at NovaUCD, the Centre for New Ventures and Entrepreneurs and in the City Centre.
Prices for Plusvital's Speed Gene Test start at just €295, with the newly launched Racing GenePak available for €435.
To order a Plusvital Racing GenePak call t: +353 (0) 86 046 3187 or email e: info@plusvital.com.
ENDS
14 February 2017
For further information contact:Micéal Whelan, University College Dublin, Communications Manager (Innovation), e: miceal.whelan@ucd.ie, t: + 353 1 716 3712 or Robert O'Connor, Marketing Manager, Plusvital, e: robert.oconnor@plusvital.com.
Editors Notes
Note 1: The research was carried out in the University of Bristol and published in a paper entitled 'Winning margins in British Thoroughbred Racehorses', in Comparative Exercise Physiology. (June 2016).
Plusvital is the world's leading provider of genetic testing to the Thoroughbred industry. Powered by Equinome's cutting edge genomic tools, it provides tests which analyse the DNA of the horse to predict optimum race distance, optimum race surface and performance potential from their headquarters in Dublin, Ireland. Plusvital's clients include leading trainers, owner and breeders in all of the major Thoroughbred regions around the world. www.plusvital.com
At NovaUCD, the hub for new ventures and entrepreneurs at University College Dublin, we nurture and support new high-tech and knowledge-intensive companies as part of UCD's innovation mission. At NovaUCD we provide purpose-built, state-of-the-art incubation facilities alongside a comprehensive business support programme for our client companies such as Plusvital. NovaUCD has been funded through a unique public-private partnership that includes AIB Bank, Arthur Cox, Deloitte, Enterprise Ireland, Ericsson, Goodbody Stockbrokers, UCD and Xilinx. www.ucd.ie/novaucd
SHARE