University College Dublin and PwC Announce Strategic Partnership to Promote Education and Talent Development
University College Dublin (UCD) and PwC Ireland have announced a new strategic partnership which will promote education and talent development.
Representing a large investment over the next seven years, the agreement will see UCD and PwC work together on:
education and talent development
thought leadership and innovation
corporate social responsibility.
UCD and PwC will partner to support the leadership development of high performing talent. This will include the joint development of internship, mentoring and academic programmes. It will also include the promotion of wellness and equality in education.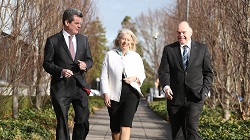 Feargal O'Rourke, Managing Partner, PwC; Susan Kilty, PwC People Partner and Professor Andrew J. Deeks, UCD President.
"We are proud to have PwC as a strategic partner. This develops on our longstanding relationship over many years," said Professor Andrew J. Deeks, UCD President.
"Working together, UCD, Ireland's largest university and PwC, Ireland's largest professional services firm, can make great strides in the areas of education and talent development, thought leadership, innovation and corporate social responsibility."
Feargal O'Rourke, Managing Partner, PwC Ireland said, "UCD is at the forefront of worldwide education. We are delighted to be partnering with the University and look forward to collaborating even more in the years to come.
"Excellence in everything we do is central to both our brands. As one of Ireland's largest employers of graduates, PwC has a huge focus on developing key talent. We ensure that our clients get the best advice and our people are the best they can be. This partnership will play a key role in the furtherance of talent and skills development for our business."
UCD seeks to contribute to the economy and society through the excellence and impact of its research, innovation and scholarship, the quality of its graduates and through its engagement nationally and internationally.
ENDS
21 February 2017
For further information contact Micéal Whelan, University College Dublin, Communications Manager (Innovation), t: + 353 1 716 3712, e: miceal.whelan@ucd.ie.
Editors Notes
At PwC, our purpose is to build trust in society and solve important problems. We're a network of firms in 157 countries with more than 223,000 people who are committed to delivering quality in assurance, advisory and tax services. www.pwc.com.
Founded in 1854 on the educational principles of its first Rector, John Henry Newman,University College Dublin (UCD) is Ireland's largest university with over 30,000 students from some 120 countries worldwide. www.ucd.ie
SHARE