University College Dublin Research Study to Develop New Economic Framework to Boost Innovation and Drive Regional Prosperity
- Researcher Awarded €1.5 million in European Research Council Funding
A University College Dublin (UCD) researcher has been awarded a prestigious European Research Council (ERC) Starting Grant of €1.5 million to establish his own research team and to pursue ground breaking social science research.
Dr Dieter F. Kogler, an early-career researcher in the UCD School of Architecture, Planning and Environmental Policy, will receive this ERC funding, over 5-years, for a study entitled, 'Technology Evolution in Regional Economies' or TechEvo.
The aim of the TechEvo project is produce a series of economic indicators, models and tools which will enable firms and policy makers, across Europe, to make more informed and better location-based investment decisions to boost innovation and drive regional prosperity. The project will also deliver an advanced science and technology policy evaluation tool.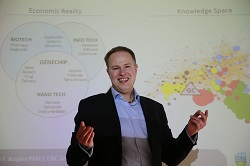 Pictured at University College Dublin is Dr Dieter Kogler
This research project will apply a 'bottom-up' approach to understanding and enabling knowledge-based economic growth. Under this methodology, local scientific and technical capabilities are considered to be the basis from which it is possible to develop regional strategic policies to boost innovation and drive economic growth.
To achieve this, Dr Kogler will employ his novel concept of 'knowledge spaces', a tool capable of identifying current economic development deficiencies, as well as future opportunities for innovative activities, within urban centres and in regional economies.
Dr Dieter Kogler, whose research focus is on the geography of innovation and evolutionary economic geography said, "I am delighted to receive this prestigious ERC Starting Grant which will enable me to build a research team to carry out cutting-edge research at University College Dublin."
He added, "To date, the way in which specific regional knowledge capabilities influence the evolution of local technology trajectories and thus shape geographies of economic prosperity have not yet been considered systematically."
"Through the TechEvo research project we will provide ground breaking insights into how innovative entities and individual inventors are embedded in social and cognitive, local and non-local networks, and how regional technological change is shaped through entry, exit, and selection processes."
Professor Orla Feely, UCD Vice-President for Research, Innovation and Impact said, "I would like to congratulate Dr Kogler on receiving an ERC Starting Grant, one of only two such grants awarded in Ireland during the latest round of this highly competitive, and Europe wide, funding call. I am particularly delighted that this Award has been received to carry out cutting-edge research within one of UCD's major research themes, namely Culture, Economy and Society."
She added, "Dr Kogler's research focus on science and technology policy and the societal benefits that derive from innovation activities is a critical field of interest and relevance. I have no doubt that the results from this research, and the implementation of the models and tools generated, will result in delivering significant economic and societal impact not only in Ireland but across Europe."
ERC Starting Grants are awarded under the 'excellent science pillar' of Horizon 2020, the European Union's research and innovation programme and aim to support a new generation of top researchers in Europe.
Dr Eucharia Meehan, Director, Irish Research Councilsaid, "Ireland's success in the ERC Starting Grant scheme demonstrates the importance and value of investing in the development of excellent researchers. ERC grants are particularly important for social science and humanities (SSH) researchers who develop their pioneering and frontier research largely on their own initiative. The Irish Research Council has put in place a specific strategy in recent years to increase our support for SSH researchers through our New Horizons funding scheme, targeting Horizon 2020, but also through a specific Basic Research Excellence Award, to nurture applicants with promise. The Irish Research Council warmly congratulates Dr Kogler on his ERC Starting Grant and we wish him every success."
Professor Mark Ferguson, Director General, Science Foundation Ireland and Chief Scientific Adviser to the Government of Ireland, said, "The insights from Dr Kogler's project into how research and development can trigger entrepreneurship and job creation, and how this in turn translates into jurisdictional advantage, economic growth and prosperity are at the cutting edge of policy research. Work like his is much needed in order to develop more effective policy measures in support of emerging technologies and smart specialisation strategies."
ERC Starting Grants are awarded to researchers of any nationality based in, or willing to move to Europe. In the latest competition, researchers of 42 nationalities received funding and will be hosted in 23 countries across Europe, including Ireland. The ERC received over 2,900 proposals for the latest competition of which around 11% was funded.
Carlos Moedas, European Commissioner for Research, Science and Innovation said, "Through the ERC Starting Grants, the EU attracts young research talent and keeps it in Europe. With the EU backing these grantees will be able to pursue their best ideas, but also create quality jobs for more research staff who wish to work on the frontiers of science. Ultimately they will contribute to creating the most valuable resource Europe has, human capital."
ENDS
23 February 2017
For further information contact Micéal Whelan, University College Dublin, Communications Manager (Innovation), t: + 353 1 716 3712, e: miceal.whelan@ucd.ie.
Editors Notes
Dr Dieter Kogler, who is originally from Austria, is a lecturer in economic geography within the UCD School of Architecture, Planning and Environmental Policy. His research focus is on the geography of innovation and evolutionary economic geography, with particular emphasis on knowledge production and diffusion, and processes related to technological change, innovation, and economic growth. Dr Kogler received his PhD from the University of Toronto and joined UCD in 2010. His career path combines personal, education and research experience acquired in Europe, the United States, and Canada within a variety of areas pertaining to the spatial analysis of socio-economic phenomena.
European Research Council (ERC), set up by the European Union in 2007, is the first European funding organisation for excellent frontier research. Every year, it selects and funds the very best, creative researchers of any nationality and age, to run projects in Europe. The ERC also strives to attract top researchers from anywhere in the world to come to Europe. https://erc.europa.eu/
ERC Starting Grants are awarded to researchers of any nationality with two to seven years of experience since completion of the PhD (or equivalent degree) and a scientific track record showing great promise. The research must be conducted in a public or private research organisation located in of the EU Member States of Associated Countries. The funding (maximum of €1.5 million per grant) is provides over up to five years. https://erc.europa.eu/funding-and-grants/funding-schemes/starting-grants
Established in 1854, University College Dublin (UCD) is Ireland's largest university with over 30,000 students from some 120 countries worldwide and is ranked number 1 globally for citations at scale for research in agricultural science and in food science and technology. Founded on the educational principles of its first Rector, John Henry Newman, the university seeks to contribute to the economy and society through the excellence and impact of its research, innovation and scholarship, the quality of its graduates and through its engagement nationally and internationally. www.ucd.ie/
SHARE