Atturos Secures Place on 2017 AIB Start-Up Academy
Atturos, a University College Dublin (UCD) spin-out company, has been selected as one of 10 finalists for the 2017 AIB Start-Up Academy Programme, with a coveted top prize worth €200,000.
The AIB Start-up Academy, an 8-week programme, is a joint venture between AIB and The Irish Times to help start-up ventures.
Atturos, founded by Professor Stephen Pennington, UCD School of Medicine and UCD Conway Institute, is developing and commercialising advanced diagnostic solutions to enable clinicians and patients make better decisions.
Leveraging extensive expertise in mass spectrometry, proteomics and clinical research, the company is currently focused on clinical and commercial translation of its OCProDx test. This novel multi-marker test is being developed to address a significant unmet need in the management of prostate cancer.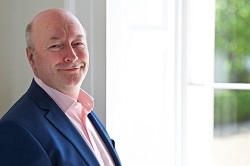 Pictured at NovaUCD is Professor Stephen Pennington, founder and CEO, Atturos
Over 450 applications were received from companies across Ireland of take part in the 2017 AIB Start-Up Academyand a longlist of 76 was whittled down to a shortlist of just 22 companies.
Following a series of five minute elevator style pitches and associated Q&As, the final 10 companies, including Atturos, were selected by a panel of judges. The members of the judging panel were; Fiona Mahon and Bridget O'Donoghue, AIB; Elaine O'Hora, Munchies; Jamie Macken, Livewire along with Eimear Moran and David Murphy, The Irish Times.
Professor Stephen Pennington, CEO, Atturos said, "I am delighted that Atturos has been selected as one of the companies to participate on this year's AIB Start-Up Academy."
He added, "I now look forward to the programme commencing in February which will be of assistance to us as we finalise plans to launch the Atturos OCProDx test in 2018. This test will be of huge benefit to men diagnosed with prostate cancer as it will provide information to guide the significant life changing decisions they have to make about their treatment."
Speaking about the 10 finalists, Fiona Mahon, AIB said, "The standard was brilliant, we are three years into the Academy and year on year it's inspiring to see the level of great start-ups out there. I feel totally inspired by the businesses we saw. One of our criteria (in judging) is to see the passion and the drive and I scored each of them with top marks for that. We really had to look for "can you scale?, Can you make money out of it?"
In 2014 Atturos completed the 3-month UCD VentureLaunch Accelerator Programme held at NovaUCD and in 2016 the company obtained Horizon 2020 SME Instrument Phase 1 funding and used it to prepare an investor-ready business plan. Last November, in Zagreb, at the 2016 EBAN (European Business Angel Network) Winter University, one of Europe's largest and most international business angel events, Atturos received the 'most investible start-up' award.
The 2017 AIB Start-Up Academy will begin in February and the final will be held on 20 April.
ENDS
12 January 2017
For further information contact Micéal Whelan, University College Dublin, Communications Manager (Innovation), e: miceal.whelan@ucd.ie, t: + 353 1 716 3712.
Editors Notes
Atturos is a new and fast growing clinical diagnostics company developing molecular diagnostic tests to support better patient decisions. www.atturos.com
At NovaUCD, the hub for new ventures and entrepreneurs at University College Dublin, we nurture and support new high-tech and knowledge-intensive companies as part of UCD's mission. At NovaUCD we provide purpose-built, state-of-the-art incubation facilities alongside a comprehensive business support programme for client companies such as Atturos. NovaUCD has been funded through a unique public-private partnership that includes AIB Bank, Arthur Cox, Deloitte, Enterprise Ireland, Ericsson, Goodbody Stockbrokers, UCD and Xilinx. www.ucd.ie/novaucd
The other 9 finalists in the 2017 AIB Start-Up Academy are
Bakers & Cakers
Frankman Grooming
Izzy Wheels
Kiki Moon
Oathello Network Limited
Origin Bars
Ostoform
The Little Pharma Ltd
Tipperary Boutique Distillery Limited.
SHARE