University College Dublin Engineer Awarded 2016 Parsons Medal
Professor Tony Fagan, a University College Dublin (UCD) engineer, has been awarded the 2016 Parsons Medal for Engineering Sciences for his role in the improvement of global communication technology.
The Parsons Medal is awarded by the Irish Academy of Engineering to engineers or engineering scientists of exceptional ability in research or engineering technology.
Professor Fagan, UCD School of Electrical and Electronic Engineering, received the honour for his influence in the field of digital signal processing (DSP). DSP is a technology that allows instant communication across the world. It is the technical brains behind television, the internet and devices such as phones and digital cameras.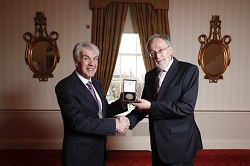 Eoin O'Driscoll, President, the Irish Academy of Engineering and Professor Tony Fagan
Professor Fagan received his PhD from University College Dublin in 1978. Following early career experience in Marconi Research Laboratories in the UK, he returned to Ireland and established a research group in UCD during the 1980s which acted as the precursor to the development of a DSP ecosystem in the country.
He has published over 130 papers in the area and raised €4.5 million in funding during his career. In addition 100 research students have graduated with Master's degrees and PhDs from his research group.
"As a result of DSP, information can be transferred at speeds a million times faster than was previously possible," said Eoin O'Driscoll, President, the Irish Academy of Engineering.
"If you watch television, connect to the Internet, use a digital camera, make a cell phone call, drive a car, type on the keyboard of a home computer, or use a charge or debit card, you are taking advantage of DSP, the technical brains in all those devices."
"Professor Fagan has achieved this by contributing some innovative ideas that were derived from his advanced engineering research."
"Also, he has enabled many important industry-based developments directly and through his education and mentoring of a substantial number of engineers to PhD level and higher."
The Parsons Medal commemorates the work of Sir Charles Algernon Parsons who invented the steam turbine and who was the youngest son of the astronomer, William Parsons, 3rd Earl of Rosse, Birr, Co. Offaly.
ENDS
20 January 2017
For further information contact Micéal Whelan, University College Dublin, Communications Manager (Innovation), e: miceal.whelan@ucd.ie, t: + 353 1 716 3712.
SHARE