University College Dublin Student Start-Up in Video Pitch Competition Final
- €5,000 prize available to overall winner
Aosta Medical, an early-stage University College Dublin (UCD) student start-up, has been announced as a finalist in the inaugural VidPitch competition.
The VidPitch competition is an initiative of FORA.ie in partnership with Microfinance Ireland, the Local Enterprise Office and Dublin BIC, to give young Irish start-ups the chance to pitch their businesses to the public via a short (2 minute or less) video.
Aosta Medical is one of five start-ups selected for the final and voting is now open to the general public to select an overall winner who will receive a €5,000 cash prize.

Watch Aosta Medical's video
Click here to vote for Aosta Medical.
Aosta Medical aims to identify those members of the elderly population who are at risk of falling in order to prevent them falling and sustaining injuries.
The start-ups novel solution involves capturing whole body data of individuals, achieved by visually analysing a subject with 3D cameras, in a non-invasive manner. This data, when combined with machine learning algorithms, will allow for the continuous improvement in predicting the likelihood of an individual falling in order to assess his/her need for early medical intervention.
The members of the Aosta Medical team are UCD undergraduate students; John Murtagh (Medicine), Sinead Carroll (Commerce), Clodagh Dunne (Mechanical Engineering) and Eoghan O'Neill (Bio-mechanical Engineering).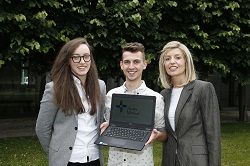 Members of the Aosta Medical team Clodagh Dunne, Eoghan O'Neill and Sinead Carroll
John Murtagh, a UCD Medicine student and co-founder of Aosta Medical, said, "We are delighted to have reached the final of the inaugural VidPitch competition. Falls in the elderly population is a serious problem and as we outlined in our video Aosta Medical, a UCD student start-up, is developing a suite of apps which can be used to identify those who are at risk to falling to enable early and targeted intervention which will prevent falls in the elderly."
He added, "I hope that members of the public will watch our video and vote for Aosta Medical to win this competition."
Earlier this summer Aosta Medical was one of five student start-ups which completed a 4-week mentoring programme as NovaUCD, as part of the UCD Start-up Stars Programme.
The aim of this mentoring programme was to assist the students in refining their start-up ideas through a series of structured workshops, including taught content from industry experts, interactive workshops and regular pitching sessions.
The UCD Start-up Stars entrepreneurship programme, has been developed by UCD Research and Innovation, the UCD Innovation Academy and UCD Michael Smurfit Graduate Business School, to support UCD undergraduate and postgraduate students who want to work together to develop and grow start-up companies.
Voting for the VidPitch competition is open until Monday 31 July.
The other 4 start-ups shortlisted are; Hamal, Skinny Malinkys, Talk2MeMore and Wynk.
ENDS
26 July 2017
For further information contact Micéal Whelan, University College Dublin, Communications Manager (Innovation), m: +353 87 760 1746, t: + 353 1 716 3712, e: miceal.whelan@ucd.ie.
SHARE