DOCOsoft Shortlisted for 2017 Irish Times Innovation Award
DOCOsoft, an innovative provider of claims management software solutions for the global insurance and financial services markets, has been shortlisted for a 2017 Irish Times Innovation Award.
The annual Irish Times Innovation Awards showcase and reward excellence in innovation across a range of ground-breaking products and services. DOCOsoft, shortlisted in the FinTech category, is one of 21 companies shortlisted across a total of 7 award categories.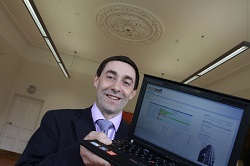 ‌
Aidan O'Neill, CEO, DOCOsoft
The company was established in Ireland in 1997 with 15 years of CAD experience in the Japanese market. This expertise is incorporated into the company's innovative technology and user-friendly application software that underpins its cost-effective productivity suite of software products.
DOCOsoft's pedigree is already well established in the UK and its software is widely used in the City of London. The company, which currently employs a staff of 30, has offices in London and at NexusUCD, the Industry Partnership Centre at University College Dublin.
Speaking at NexusUCD, Aidan O'Neill, CEO, DOCOsoft said, "We are now recognised as one of the most innovative FinTech companies operating in the highly competitive Lloyd's of London insurance landscape. Being shortlisted for a prestigious 2017 Irish Times Innovation Award is a great honour for us and we believe can take us to a new level both in London, Dublin and even further afield."
He added, "We consider it to be an acknowledgment of the innovativeness of our claims management system which is creating impressive cost efficiencies for insurers, reducing downtime and even building an enhanced data analytics capability. We are delighted with the recognition and look forward to the awards evening this October."
In 2016 the company won the prestigious Technology Initiative of the Year Award at the Insurance Day London Market Awards.
Econiq and Taxback International were shortlisted alongside DOCOsoft in the FinTech category.
The finalists in each award category were selected by an independent panel of judges from UCD Michael Smurfit Graduate Business School, Teagasc, AbbVie, Enterprise Ireland, Science Foundation Ireland, KPMG and the Irish Times.
Finalists will now present to a distinguished panel of senior business leaders at an event at the Royal Hospital Kilmainham later this month.
Winners in each of 7 Irish Times Innovation Award categories, and an overall winner, will be announced at a gala event to be held in October.
ENDS
1 June 2017
For further information contact Micéal Whelan, University College Dublin, Communications Manager (Innovation), e: miceal.whelan@ucd.ie, t: + 353 1 716 3712 or Aidan O'Neill, DOCOsoft, m: + 353 87 248 1428, e: aidan.oneill@docosoft.com.
Editors Notes
DOCOsoft's products and services provide users with efficient solutions to automate the claims and documents handling processes. The company has developed a strong portfolio of software products involving claims management, document imaging and document management along with a comprehensive range of associated services; such as consultancy, project management and bespoke development. www.docosoft.com
NexusUCD is the Industry Partnership Centre at University College Dublin. NexusUCD, is located in Belfield Office Park, Clonskeagh, adjoining the main UCD campus. It offers high-quality modern office space, with short, medium or long term occupancy arrangements, and associated services to established innovation-led companies who are collaborating, or wish to collaborate, with UCD's world-class research base. By locating at NexusUCD companies, such as DOCOsoft, can benefit from close proximity to and interaction with UCD academics and researchers. www.ucd.ie/nexusucd
Further information about the 2017 Irish Times Innovation Awards, including the full list of shortlisted companies, is available via www.irishtimes.com/business/innovation/innovation-awards
SHARE