Eight New Pan-European Research Projects Focused on Improving Cancer Rehabilitation Announced at University College Dublin
CATCH, the €2.1 million connected health innovative training network programme (ITN), announced today at University College Dublin (UCD) that it has finalised the international recruitment process for eight (8) new Marie Sk?odowska-Curie funded PhD students.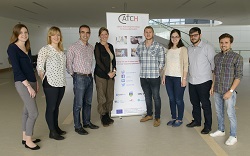 Pictured (l-r) at University College Dublin are the eight new CATCH ITN PhD students; Gillian O'Neill, Louise Brennan, Juan Muñoz Peñas, Mercè Bonjorn Dalmau, Dominic O'Connor, Ornela Bardhi, Gabriel Signorelli and Francisco Guerra. (Image: Vincent Hoban)
Speaking at UCD, Professor Brian Caulfield, who leads UCD's Connected Health Programme and is CATCH (Cancer Activating Technology in Connected Health) project co-ordinator said, "Over the past 10 years, advances in cancer diagnosis and treatment have been ground-breaking. CATCH will join in the fight against cancer and will provide a much needed interdisciplinary training and research programme."
He added, "Through the implementation of successful research results and discoveries in cancer care, we are now able to consider certain cancers as a chronic disease, rather than a fatal illness. Moving forward, CATCH is joining this fight to ensure that we can offer the tools needed to maximise the impact of the rehabilitation programmes for those living with this disease on their journey back to a full and active life."
The 8 new research projects, which will focus on identifying technological innovations to improve cancer rehabilitation and the quality of life of cancer patients, are summarised below.
Artificial exercise support. A significant proportion of cancer survivors suffer cachexia, resulting in reduced functional capacity following treatment. This research project will look at how NeuroMuscular Electrical Stimulation (NMES) may serve as an early-stage training modality for cancer patients, acting as an artificial exercise support. Student: Dominic O'Connor, UK.
Gamification strategies for health promotion of people affected by cancer. This research project will focus on motivational aspects related to lifestyle change and improving health behaviour through the design of a gamification intervention. Student, Francisco Miguel Monteiro Guerra, Portugal.
Ethnographic analysis of the current care pathway from a patient perspective. This research project will use ethnographic research methods drawn from the discipline of anthropology to more effectively capture patient insights. Student, Ornela Bardhi, Albania.
Qualifying private organisations' commercialisation efforts through stakeholder interactions. This research projectwill examine how stakeholder interactions influence the development and realisation of commercialisation plans. Student: Juan Muñoz Peñas, Spain.
Quantification of health habits and needs of people affected by cancer to improve their quality of life through physical activity. This research project will study the needs and difficulties facing cancer patients by paying particular attention to the patient's adherence to physical activity guidelines, before and after their medical treatment. Student, Gabriel Signorelli, Spain.
Strategies for increasing mental wellbeing in patients with cancer. Without effective support, mental health difficulties can escalate for cancer patients, complicating their treatment and recovery. eHealth technologies are already used in mental health but this research project will use ethnographic research methods with cancer patients to allow for the design of a mobile application to cater specifically for the mental wellbeing of cancer patients. Student: Gillian O'Neill, Ireland.
Supporting commercialisation of technology-enabled cancer solutions through design thinking. This research project will look at user-centred innovation and co-creation, incorporating innovation problem solving and business development by hands-on experimenting, which will allow users and businesses to explore and uncover multiple relevant user needs that are also commercially viable. ?Student, Mercè Bonjorn Dalmau, Spain.
Targeted rehabilitation exercise biofeedback system for cancer care. There is a need to develop a technology platform to accommodate rehabilitation exercises commonly prescribed for cancer patients. This research project will work with clinicians and cancer patients to design, implement and evaluate a 'virtual personal therapist' mobile app. Student: Louise Brennan, Ireland.
CATCH, which is led by UCD, includes two other leading universities, Universidad de Deusto (Spain) and University of Southern Denmark, along with progressive companies, Salumedia Tecnologías and Oncoavanze, both from Spain, and the Beacon Hospital, a dedicated Irish healthcare provider.
The focus of CATCH is to improve the care pathways for patients living with cancer in Ireland, Europe and globally, through this research and training programme.
CATCH is a deep collaboration across academic, business and clinical sectors. Students will benefit from intersectoral secondments, interdisciplinary communication skills, public engagement and outreach while working on a programme of interrelated core research projects addressing gaps in the knowledge and evidence base for technology enabled cancer rehabilitation.
CATCH has been funded by the European Union's Horizon 2020 programme under the Marie Sk?odowska-Curie actions initiative.
Today's announcement took place as part of the CATCH Orientation Conference, the first training event within the CATCH programme. The conference brought together all the new PhD students enrolled under the programme, as well as consortium member representatives, cancer patients' advocate, cancer patients' organisations, and other members of the academia, healthcare sector and industry.
ENDS
9 June 2017
For further information contact Micéal Whelan, University College Dublin, Communications Manager (Innovation), e: miceal.whelan@ucd.ie, t: + 353 1 716 3712 or Jazmin Habgood, CATCH, Programme Manager, University College Dublin e: catch@ucd.ie.
Editors Notes
Connected Health combines state-of-the-art technologies, tools, methodologies, and analytics to create a new health management model by connecting people and actionable information in a health care system that gathers, links, interprets, and consolidates information from various sources.
CATCH has received funding from the European Union's Horizon 2020 research and innovation programme under the Marie Sk?odowska-Curie grant agreement No 722012. www.catchitn.eu
SHARE