Oil Giant Saudi Aramco Takes Stake in Wastewater Innovator, OxyMem
- World's largest oil company joins Dow Water and Process Solutions as a key investor
Hot on the heels of the company securing investment from Dow Water and Process Solutions, a business unit of The Dow Chemical Company (NYSE: DOW), OxyMem Ltd, a leading innovator in energy efficient wastewater treatment, today announced that it has added Saudi Aramco Energy Ventures (SAEV) to its growing shareholder base.
SAEV is the corporate venturing subsidiary of Saudi Aramco, a world leader in integrated energy and chemicals.
OxyMem's ground breaking Membrane Aerated Biofilm Reactor (MABR) technology has the potential to bring wastewater treatment closer to energy neutrality by reducing energy consumption for aeration by up to 75 percent. The funds raised will enable OxyMem to further focus on growing the business by increasing investments in product development, expanding its manufacturing capacity, and increasing its sales force.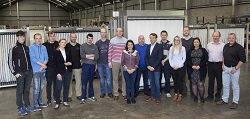 Wayne Byrne, Managing Director, OxyMem, said, "We are delighted to have secured this latest funding from such an influential actor in the energy world. We feel strongly supported by Saudi Aramco and believe this investment will add momentum to our market development goals, particularly in some of the more water stressed regions."
He added, "I believe that we have an important technology that can make a sizeable contribution in the wastewater market where there is a significant need for more efficient infrastructure solutions."
Said Bruce Niven, Chief Investment Officer, SAEV, said, "We are delighted to have the opportunity to make this investment into OxyMem. The Membrane Aerated Biofilm Reactor (MABR) is a compelling technology for energy reduction and cost-effective capacity expansion in wastewater treatment plants, and we see a clear need for such solutions in the fast-growing MENA market. We look forward to working with the OxyMem team to further develop their transformative wastewater technology and to growing the business."
Snehal Desai, Global Business Director, Dow Water and Process Solutions, said, "Our work with OxyMem in the past year has validated our belief in the MABR technology and the cost effective solutions it can provide to the industrial and municipal wastewater industry. As an existing strategic investor, Dow welcomes SAEV as a knowledgeable co-investor. The additional financing will allow OxyMem to accelerate its commercialization activity."
OxyMem, a University College Dublin (UCD) spin-out company, was co-founded by Wayne Byrne, Professor Eoin Casey and Dr Eoin Syron in 2013 as a spin-out from UCD's School of Chemical and Bioprocess Engineering.
ENDS
20 June 2017
For further information contact Micéal Whelan, University College Dublin, Communications Manager (Innovation), e: miceal.whelan@ucd.ie, t: + 353 1 716 3712 or Richard Riggs, Saudi Aramco Energy Ventures, e: richard.riggs@saev.com, t: +44 771 0385 292 or Wayne Byrne, OxyMem Limited, e: wbyrne@oxymem.com, t: +353 87 915 3574 or Amy Cohen, Dow Water & Process Solutions, e: ASCohen@dow.com, t: +1 215 592 3428.
Editors Notes
Saudi Aramco Energy Ventures LLC (SAEV) is the corporate venturing subsidiary of Aramco, the world's leading fully integrated energy and petrochemical enterprise. Headquartered in Dhahran with offices in North America, Europe and Asia, SAEV's mission is to invest globally in start-up and high growth companies with technologies of strategic importance to Aramco. www.aramcoventures.com.
OxyMem, a University College Dublin spin-out, and fast growing Global Cleantech 100 company has been commercialising an innovative infrastructure solution to reduce costs for wastewater treatment – the Membrane Aerated Biofilm Reactor (MABR).
OxyMem's breakthrough technology tackles the industry's biggest challenge – energy costs. Conventional wastewater treatment consumes 2-3% of a nation's electricity production. This is due a 100 years reliance on bubble aeration for conventional treatment plants, which suffer high energy losses because of the oxygen transfer limitations in the process.
OxyMem's MABR does not have these limitations. OxyMem uses hollow fibre, gas permeable membranes, to support a fixed film ecosystem allowing for direct delivery of oxygen to the micro-organisms which break down the pollutants. OxyMem's drop in solution can be easily retrofit into existing infrastructure to improve capacity, achieves superior energy performance, with lower sludge production. www.oxymem.com
A global leader in sustainable separation and purification technology, Dow Water & Process Solutions is making a clear impact in the world. We're helping to make water safer and more accessible, food taste better, pharmaceuticals more effective and industries more efficient, and spearheading the development of sustainable technologies that integrate water and energy requirements.
Dow Water & Process Solutions offers a broad portfolio of ion exchange resins, reverse osmosis membranes, ultrafiltration membranes, fine particle filters and electrodeionization products, with strong positions in a number of major application areas, including industrial and municipal water, industrial processes, pharmaceuticals, power, residential water and waste and water reuse. www.dowwaterandprocess.com
Dow (NYSE: DOW) combines the power of science and technology to passionately innovate what is essential to human progress. The Company is driving innovations that extract value from material, polymer, chemical and biological science to help address many of the world's most challenging problems, such as the need for fresh food, safer and more sustainable transportation, clean water, energy efficiency, more durable infrastructure, and increasing agricultural productivity.
Dow's integrated, market-driven portfolio delivers a broad range of technology-based products and solutions to customers in 175 countries and in high-growth sectors such as packaging, infrastructure, transportation, consumer care, electronics, and agriculture. In 2016, Dow had annual sales of $48 billion and employed approximately 56,000 people worldwide. The Company's more than 7,000 product families are manufactured at 189 sites in 34 countries across the globe. References to "Dow" or the "Company" mean The Dow Chemical Company and its consolidated subsidiaries unless otherwise expressly noted. www.dow.com
SHARE