University College Dublin Engineering Students Win a Universal Design Grand Challenge Commercialisation Award
Students from third-level colleges across Ireland recently presented their design projects at the 3rd annual Universal Design Grand Challenge (UDGC) Awards held in Dublin. The theme of this year's awards was 'Solutions that work for everyone'.
The annual awards are an initiative of the Centre for Excellence in Universal Design at the National Disability Authority, and are supported by Enterprise Ireland.
Universal Design is being promoted at international, European and national levels as a way to enhance innovation and create a more inclusive society and prioritises all peoples' needs in design.
At the Awards ceremony University College Dublin (UCD) students, Fiachra Doherty, Clodagh Dunne, Conor Molloy and Jamie Carroll, won the Universal Design Commercialisation Award sponsored by Enterprise Ireland.
The UCD School of Mechanical and Materials Engineering students won the award for PnP Analytics, a software solution that uses data from a pressure mat to assess the risk of pressure ulcers developing for a patient in a hospital bed.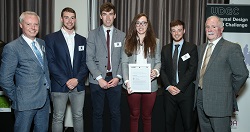 Pictured (l-r) David Flood, Senior Commercialisation Specialist, Enterprise Ireland, winning UCD engineering students, Fiachra Doherty, Conor Molloy, Clodagh Dunne, Jamie Carroll with Dr Ger Craddock, Chief Officer, Centre for Excellence in Universal Design (Image by Conor ó Mearáin)
Helen Guinan, Chairperson, The National Disability Authority, said, "We were delighted to see the entries for this year's Universal Design Grand Challenge Awards coming from such a wide range of disciplines: from product and industrial design, to mechanical engineering and computer software and gaming. The eight finalists demonstrate Universal Design is being taught more and more in third-level colleges and students are responding to the challenge of designing useful and beautiful solutions that benefit the widest range of people possible."
David Flood, Senior Commercialisation Specialist, Enterprise Ireland, said, "Novel design thinking is an integral part of the research and innovation agenda supported by Enterprise Ireland. The Universal Design Grand Challenge is a great occasion to encourage the ambition of designers and researchers in Ireland's third-level who want to bring their ideas from the workshop to the marketplace."
He added, "The UDGC Commercialisation Award gives the winner an opportunity to connect with business and market experts who will help to validate and develop their product concept."
The Judges Choice Award for Information and Communication Technology went to Aine O'Reilly, University of Limerick for Zobi. Zobi is a new design of hardware and software that allows children with diabetes to monitor their own blood sugar levels.
The Judges Choice Award for Products and Services went to Sarah Twaddle and Megan Sands, National College of Art and Design for Positive Future. Positive Future is an innovative packaging design, awareness campaign and mobile network support system for anti-retroviral medication in Sub Saharan Africa.
The People's Choice Award, which was voted by audience members went to Cormac Altman, Ross Delaney, Ciaran Sullivan and Will D'Arcy from Dublin Institute of Technology. They won the Award for Odee Smart Hub, a monitoring hub to support people who are at risk of falling in a non-intrusive manner that respects privacy.
ENDS
1 June 2017
For further information contact Micéal Whelan, University College Dublin, Communications Manager (Innovation), t: + 353 1 716 3712, e: miceal.whelan@ucd.ie.
Editors Notes
Universal Design is the design and composition of an environment so that it can be accessed, understood and used to the greatest extent possible by all people regardless of their age, size, ability or disability.
The Centre for Excellence in Universal Design is operating the Universal Design Grand Challenge Awards as a way to promote Universal Design in education in Ireland. www.universaldesign.ie
The Centre for Excellence in Universal design is part of the National Disability Authority. The National Disability Authority is the independent state body providing expert advice on disability policy and practice to Government, and promoting universal design in Ireland. www.nda.ie
SHARE