Autism App Scoops Top Award at the 2017 BT Young Scientist Business Bootcamp
A talented group of teenagers from Galway, Cork, Kilkenny, Offaly and Dublin have claimed the winning spot at the 2017 BT Young Scientist Business Bootcamp with their project entitled Mi Contact.
The winners were selected by a judging panel of accomplished business professionals following an intensive four day workshop at NovaUCD. The winning project is an app based on applied behaviour analysis to enhance early intervention programmes, and to encourage children with autism make eye contact.
Ciara-Beth Ni Ghríofa (aged 17), Coláiste an Eachréidh, Galway; Ella Brennan, (aged 16), Loreto Secondary School, Kilkenny; George Hennessy, (aged 17), Midleton College, Cork; Lucy Leonard, (aged 15), Tullamore College, Offaly; and Steven Harris (aged 18), Luttrellstown Community College, Dublin, won best overall team at the 8th annual BT Young Scientist Business Bootcamp.
‌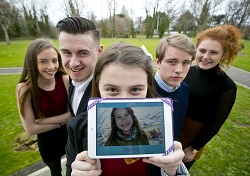 Pictured at NovaUCD are members of the Mi Contact team (l-r) Lucy Leonard, Steven Harris, Ciara-Beth Ni Ghríofa, George Hennessy, and Ella Brennan
The team impressed the judges with their well-planned and thought out business pitch for Mi Contact, which they presented at NovaUCD. The project idea was created by Ciara-Beth as her entry to the 2017 BT Young Scientist & Technology Exhibition in January this year.
To find out more about Mi Contact watch
The group was selected for their significant progress over the four-day Bootcamp, which is designed to equip students with practical skills and knowledge to transform a creative idea into a viable business proposition.
The Bootcamp is designed and delivered by BT Ireland and University College Dublin.
During the Bootcamp, the students, selected because they displayed particular business ambition, are shown how to set up a company, write a business plan, create a marketing campaign, draft a budget and present their ideas competently to senior academics and business people.
Find out more about the 2017 BTYSTE Business Bootcamp watch
Jack O'Connor, (aged 18), Desmond College, Limerick was recognised as the best individual student for demonstrating his in-depth understanding of the process of bringing an idea he had on paper all the way through to project commercialisation.
The Bootcamp is designed and delivered by BT Ireland and University College Dublin.
Congratulating all the participants at the BT Young Scientist Business Bootcamp award ceremony, Shay Walsh, Managing Director, BT Ireland, said, "We've had a fantastic week here at the 2017 BT Young Scientist Business Bootcamp, as we've watched the transformation of this talented group of people from creative young students into aspiring entrepreneurs."
"As judges and mentors, we've been inspired by their growing confidence and ability; and feel a sense of pride as a company to be able to support the next generation of business leaders, academics and professionals. I'd like to congratulate our winning team and indeed everyone who took part in the workshop this week and look forward to following your careers in the years to come."
Professor Orla Feely, UCD Vice-President for Research, Innovation and Impact said, "University College Dublin, through UCD Research and Innovation, is delighted to continue working in partnership with BT Ireland to deliver the annual BT Young Scientist Business Bootcamp at NovaUCD."
She added, "The aim of the Bootcamp is assist the participating students in developing their entrepreneurial thinking and understanding of the steps required to convert their innovative STEM ideas into sustainable businesses."
She concluded, "I would like to congratulate the overall Bootcamp winners, and all the students who participated on this year's programme, and I hope in the near future to see their ideas transformed into businesses impacting Ireland's economy and society."
Throughout the week the groups were coached by a dedicated BT business mentor and learned the fundamentals of critical business applications such as patenting, business development, sales, marketing and presentation skills.
ENDS
2 March 2017
For further information contact Micéal Whelan, University College Dublin, Communications Manager (Innovation), t: + 353 1 716 3712, e: miceal.whelan@ucd.ie or Gina Kelly, senior PR & Corporate Relations Manager, BT Ireland, t: +353 86 780 5451.
Editors Notes
The judging panel for the BT Young Scientist Business Bootcamp is comprised of accomplished business professionals who invest their time freely to impart their commercial knowledge and experience on the students. This year's judges were:
Shay Walsh, Managing Director, BT Ireland
Dr Tony Scott, co-founder, BTYSTE
Conor Brophy, RTE reporter
Gearoid Mooney, Divisional Manager - Research & Innovation, Enterprise Ireland
Malcolm Byrne, Head of Communications, Higher Education Authority.
BT's purpose is to use the power of communications to make a better world. It is one of the world's leading providers of communications services and solutions, serving customers in 180 countries. Its principal activities include the provision of networked IT services globally; local, national and international telecommunications services to its customers for use at home, at work and on the move; broadband, TV and internet products and services; and converged fixed-mobile products and services. BT consists of six customer-facing lines of business: Global Services, Business and Public Sector, Consumer, EE, Wholesale and Ventures, and Openreach.
For the year ended 31 March 20161, BT Group's reported revenue was £19,012m with reported profit before taxation of £2,907m.
British Telecommunications plc (BT) is a wholly-owned subsidiary of BT Group plc and encompasses virtually all businesses and assets of the BT Group. BT Group plc is listed on stock exchanges in London and New York.1 The results for the period have been revised to reflect the outcome of the investigation into our Italian business. Detail of which is set out in our third quarter results announcement published on 27 January 2017. This financial information is unaudited. www.btplc.com
At NovaUCD, the hub for new ventures and entrepreneurs at University College Dublin, we nurture and support new high-tech and knowledge-intensive companies as part of UCD's mission. At NovaUCD we provide purpose-built, state-of-the-art incubation facilities alongside a comprehensive business support programme for client companies. UCD's technology transfer team, which is responsible for the commercialisation of intellectual property arising from research and other knowledge-intensive activity at UCD, is also based at NovaUCD. NovaUCD has been funded through a unique public-private partnership that includes AIB Bank, Arthur Cox, Deloitte, Enterprise Ireland, Ericsson, Goodbody Stockbrokers, UCD and Xilinx. www.ucd.ie/novaucd
SHARE