Johnny Murtagh Partners with Plusvital as an Official Brand Ambassador
Plusvital, the Irish equine science company, today announced a new partnership with the five-time Champion jockey and Group winning trainer, Johnny Murtagh, who will act as an official brand ambassador for the company's range of scientifically-based supplements.
As leaders in equine nutrition since 1975, Plusvital's supplements and care products have been used by successful trainers and riders across the world.
Following its acquisition in 2015 of Equinome, the University College Dublin (UCD) equine genetic testing spin-out company, the brand has continued to focus on improving equine performance through science.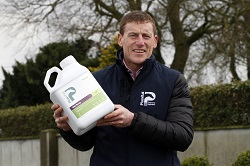 Johnny Murtagh, five-time Champion jockey and Group winning trainer
(Peter Mooney Photography)
Speaking on the announcement of this new partnership, Mike Shelly, Plusvital, CEO, said, "We are delighted to welcome on board someone with as distinguished a record as Johnny's as a Plusvital brand ambassador. In particular, the Plusvital Racing Range of supplements have been scientifically designed to assist horses, such as those at JP Murtagh Racing, with their recovery and wellness during training, which means they can give their best on raceday."
Speaking on behalf of JP Murtagh Racing, Johnny Murtagh said, "We're very excited to develop a new partnership with Plusvital. Plusvital Racing Syrup is actually my preferred supplement for my horses at the moment. I can give it to my horses five days before a race and it perks them up enough to hopefully give the extra edge needed to come out on top."
"We take a lot of measures to keep our horses as healthy as possible. The well-being of our horses is everything for us and the Plusvital supplements have helped us to maintain a very health conscious approach around the yard," he added.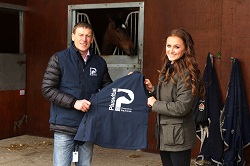 Johnny Murtagh, five-time Champion jockey and Group winning trainer and Amy Buckley, European Sales Executive, Plusvital
(Peter Mooney Photography)
Plusvital has recently re-located its headquarters from NovaUCD, the Centre for New Ventures and Entrepreneurs, to new offices in Dún Laoghaire. Plusvital is maintaining strong links with UCD though the company's on-going, multi-million euro genomic and nutrition research programmme.
Offering scientifically-based supplements for the serious competitor in all aspects of the equine industry, any of the Plusvital supplement range can be purchased directly or through a number of selected local suppliers, as displayed on the company's website, www.plusvital.com/supplements/where-to-buy
ENDS
28 March 2017
For further information contact Micéal Whelan, University College Dublin, Communications Manager (Innovation), e: miceal.whelan@ucd.ie, t: + 353 1 716 3712 or Robert O'Connor, Marketing Manager, Plusvital, e: robert.oconnor@plusvital.com.
Editors Notes
Plusvital (www.plusvital.com) has been a leader in equine nutrition since its formation in 1975, growing out of Ireland's world-famous racing and sport horse tradition. Since the introduction of our iconic Racing Syrup to the market over 40 years ago, we have continued to develop innovative scientifically-based equine supplements. Plusvital has an on-going, multi-million euro genomic and nutrition research programme at its headquarters in Ireland, with with a focus on developing innovative products based upon strong scientific research to help empower the performance of our clients.
For further details on how Plusvital can give you a competitive advantage, please contact t: +353 (0) 86 046 3187 or e: info@plusvital.com
SHARE