Muscle Matters - Dr Brendan Egan's TEDxUCD Talk Exceeds 100,000 Views
- Dr Egan is a member of the Sligo GAA Football team
A talk entitled 'Muscle Matters' delivered by Dr Brendan Egan at TEDxUCD 2014 has now received more than 100,000 YouTube views.
Dr Egan's talk focuses on Sarcopenia, a degenerative disease involving the loss of muscle mass, strength and function as a result of ageing. The disease affects balance, gait and overall ability to perform daily tasks leading to functional decline and loss of independence in older adults.
During his talk he outlines the connection of this disease, with other diseases, including cancer and diabetes, and encourages people to make lifestyle changes now in order to maintain muscle mass as they age.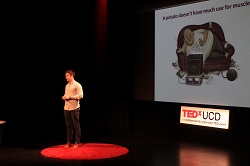 Pictured delivering his TEDxUCD talk is Dr Brendan Egan
Dr Egan's research is focused on investigating the molecular regulation of skeletal muscle function and adaptation during life, with a special interest in the synergy between nutrition and exercise interventions to optimise performance in athletes and the elderly.
He has also played senior inter-county GAA football with Sligo since 2003 and club football with St Vincent's in Dublin since 2013.
Dr Egan was a lecturer in Exercise Metabolism at the UCD School of Public Health, Physiotherapy and Sports Science from 2011 until 2016. In 2016 he was appointed a senior lecturer in Sport and Exercise Physiology in the School of Health and Human Performance at Dublin City University. He retains a position of visiting Associate Professor at University College Dublin.
Dr Brendan Egan said, "Technological advancements mean that our modern environment now predisposes us to being less physically active. As a result of this and other lifestyle factors, we are using our muscles less than they need to be in order to stay strong and healthy, so the incidence of Sarcopenia is on the increase."
"In 2014 I was delighted to avail of the opportunity to deliver a TEDxUCD talk to focus on this condition and the impact of muscle health and longevity, and to highlight how making lifestyle changes when we are younger can help us to maintain muscle mass as we age and thus live well in our later years."
He added, "I am honoured that my TEDxUCD 2014 talk has now exceeded 100,000 views. To me this is a clear indication of people's interest in learning more about the importance of living an active lifestyle, and the impact this has on maintaining muscle mass as we get older. This can be thought of as adding life to our years as well as years to our lives."
University College Dublin has been running an annual TEDxUCD event, organised by volunteers from the UCD Research and Innovation team based at NovaUCD, since 2013. TEDxUCD speakers are members of the UCD community of researchers, students, alumni and friends who speak on a wide range of ideas worth spreading.
At TEDxUCD events a combination of live speakers and a selection of TED Talks videos are combined to spark deep discussion and connection in a small group of 100 attendees. The TED conference provides general guidance for the TEDx programme, but individual TEDx events, including TEDxUCD, are self-organised.
Dr Egan's talk is available to view via https://www.youtube.com/watch?v=LkXwfTsqQgQ
ENDS
14 March 2017
For further information contact Micéal Whelan, University College Dublin, Communications Manager (Innovation), e: miceal.whelan@ucd.ie, t: + 353 1 716 3712.
Editors Notes
Dr Brendan Egan graduated with a BSc in Sport and Exercise Science from the University of Limerick in 2003, before graduating from Loughborough University with distinction from the MSc in Sport and Exercise Nutrition programme. He returned to Ireland in late 2004 to commence doctoral studies under the supervision of Dr Donal O'Gorman at Dublin City University. The focus of this research was on skeletal muscle adaptation to exercise and in particular the continuity between acute molecular responses to individual bouts of exercise and the adaptations in skeletal muscle induced by exercise training.
He was awarded his PhD in 2008, before moving on to the prestigious Karolinska Institute, Stockholm, Sweden. There he completed his post-doctoral training in Professor Juleen Zierath's Integrative Physiology group at the Department of Molecular Medicine and Surgery. Here his research, using animal and in-vitro cell systems, focused on the transcriptional regulation of skeletal muscle insulin resistance in Type 2 diabetes by small, non-coding RNAs.
In the spirit of ideas worth spreading, TEDx is a program of local, self-organized events that bring people together to share a TED-like experience. At a TEDx event, TED Talks video and live speakers combine to spark deep discussion and connection. These local, self-organized events are branded TEDx, where x = independently organized TED event. The TED Conference provides general guidance for the TEDx program, but individual TEDx events are self-organized. (Subject to certain rules and regulations.)
TED is a non-profit organization devoted to Ideas Worth Spreading, usually in the form of short, powerful talks (18 minutes or fewer) delivered by today's leading thinkers and doers. Many of these talks are given at TED's annual conference in Vancouver, British Columbia, and made available, free, on TED.com. TED speakers have included Bill Gates, Jane Goodall, Elizabeth Gilbert, Sir Richard Branson, Monica Lewinsky, Philippe Starck, Ngozi Okonjo-Iweala, Sal Khan and Daniel Kahneman.
TED's open and free initiatives for spreading ideas include TED.com, where new TED Talk videos are posted daily; the Open Translation Project, which provides subtitles and interactive transcripts as well as translations from thousands of volunteers worldwide; the educational initiative TED-Ed; the annual million-dollar TED Prize, which funds exceptional individuals with a "wish," or idea, to create change in the world; TEDx, which provides licenses to thousands of individuals and groups who host local, self-organized TED-style events around the world; and the TED Fellows program, which selects innovators from around the globe to amplify the impact of their remarkable projects and activities.
SHARE