THEYA Healthcare Founder Shares Secrets to Success at Northern Ireland Chamber Event
An exceptional entrepreneur whose company supplies specialist garments to the healthcare sector has said hard work and determination are the reasons for her success.
Ciara Donlon, CEO and founder of THEYA Healthcare, who was guest speaker at a Northern Ireland Chamber of Commerce and Industry (NI Chamber) event, in partnership with Ulster University Business School, also told attendees at Belfast's W5 that perseverance was also a critical part of entrepreneurship and innovation.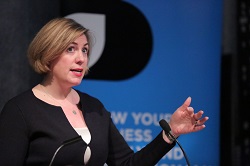 Ciara Donlon, CEO, founder, THEYA Healthcare speaking at the NI Chamber event
(Image: Press Eye Ltd)
THEYA Healthcare has created a range of underwear for women who have undergone any type of breast, thoracic, pelvic or abdominal surgery and also for those receiving chemotherapy or radiotherapy.
Ciara set up the company in 2014 after running her own lingerie shop in Dublin where she saw customers struggling to find underwear that was comfortable to wear after surgery and during radiotherapy treatment. THEYA Healthcare began trading in 2015.

Sharing her insight into starting a business she said, "You have to be prepared to stick at it. There will be lots of obstacles put in your path and you have to find a way past them. But when you really believe in something, you find levels of resolve within yourself that you didn't even know you had. Listen to your market. Perhaps it's my background in marketing, but I was stunned when I started THEYA Healthcare that I could not find one manufacturer in the space who was actually listening to its end users. Business is simple really, offer people what they want and you will succeed."
In 3 short years, THEYA Healthcare, headquartered at NovaUCD, the Centre for New Ventures and Entrepreneurs at University College Dublin (UCD), has established a strong presence in the Irish market and further afield. It is an approved supplier to the NHS in the UK and has entered the French, Portuguese and Canadian markets.
Ann McGregor, Chief Executive of Northern Ireland Chamber of Commerce and Industry, said, "NI Chamber is delighted to have an entrepreneur of Ciara's calibre here today. She is a real inspiration to anyone thinking of starting their own business. Entrepreneurship goes hand-in-hand with innovation – it requires an ability to provide better solutions and provide new products. Great entrepreneurs are not only hard working but also highly innovative and Ciara exemplifies both of these qualities superbly well."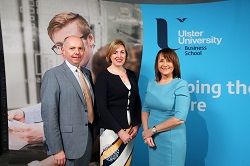 Professor Mark Durkin, Executive Dean, Ulster University Business School, Ciara Donlon, THEYA Healthcare and Ann McGregor, Chief Executive, Northern Ireland Chamber of Commerce and Industry
(Image: Press Eye Ltd)
Professor Mark Durkin, Executive Dean, Ulster University Business School, said, "We are delighted to partner the NI Chamber of Commerce and Industry for this event. Innovation and entrepreneurship are the driving forces behind every growing economy and it is our job at the Business School to nurture that culture in our students across all departments. For that reason, Ciara is an excellent role model as someone who used her leadership and marketing skills to exploit a gap in the post-surgery lingerie market to create an award-winning company."
A graduate of Trinity and DIT with a BSc in Management and an Advanced Diploma in Marketing Techniques, Ciara gained over 15 years' experience working in companies including RBS, Irish Life & Permanent and Vodafone.
Ciara, as the CEO of THEYA Healthcare, has won a multitude of accolades including being named one of 18 worldwide finalists for the Cartier Women's Initiative Awards 2017. The winners will be announced in Singapore in April.
ENDS
13 March 2017
For further information contact Micéal Whelan, University College Dublin, Communications Manager (Innovation), e: miceal.whelan@ucd.ie, t: + 353 1 716 3712 or Eileen Rainsberry, THEYA Healthcare, Marketing Director, e: eileen@theyahealthcare.com, t: + 44 77 1440 3218 or Christopher Morrow, Head of Communications & Policy, Northern Ireland Chamber of Commerce and Industry, e: christopher.morrow@northernirelandchamber.com.
Editors Notes
THEYA Healthcare is an Irish manufacturer of healthcare garments and has been trading since 2015. At every stage of product development THEYA Healthcare seeks input from both patients and healthcare professionals to ensure that its range best meets the needs of its customers. www.theyahealthcare.com
Northern Ireland Chamber of Commerce and Industry (NI Chamber) is an award winning, quality assured, customer focused membership organisation with over 230 years commitment to the Northern Ireland economy. It is a well-known network for business with a membership of 1,200 businesses representing over 100,000 employees. http://www.northernirelandchamber.com/
At NovaUCD, the hub for new ventures and entrepreneurs at University College Dublin, we nurture and support new high-tech and knowledge-intensive companies as part of UCD's mission. At NovaUCD we provide purpose-built, state-of-the-art incubation facilities alongside a comprehensive business support programme for client companies such as THEYA Healthcare. NovaUCD has been funded through a unique public-private partnership that includes AIB Bank, Arthur Cox, Deloitte, Enterprise Ireland, Ericsson, Goodbody Stockbrokers, UCD and Xilinx. www.ucd.ie/novaucd
SHARE