University College Dublin Shortlisted for Two Knowledge Transfer Ireland 2017 Impact Awards
University College Dublin (UCD) has been shortlisted for two (2) Knowledge Transfer Ireland (KTI) 2017 Impact Awards.
The annual KTI Impact Awards showcase and celebrate successes in knowledge transfer carried out in Irish publicly funded research organisations in the previous year. The Awards recognise and commend some of the top performances in the areas of collaborative research, consultancy, licensing and the development of spin-out companies.
The university has been shortlisted, as a result of applications submitted by UCD's Technology Transfer Office at NovaUCD, for the Mature Spin-out Company Impact Award and the Knowledge Transfer Initiative of the Year Award.
The Mature Spin-out Company Impact Award recognises a spin-out company from an Irish publicly-funded research performing organisation that has achieved a successful and significant event in the previous calendar year. The award celebrates both the company success and its heritage in the RPO, including the support provided by the Technology Transfer Office (TTO) or Industrial Liaison Office (ILO).
University College Dublin's shortlisted application for this Award outlines the impact of the UCD spin-out company Equinome Ltd.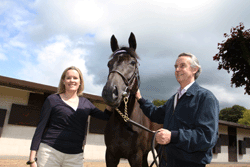 Equinome co-founders, Dr Emmeline Hill and Jim Bolger
Equinome was co-founded in 2009 by Dr Emmeline Hill, UCD School of Agriculture and Food Science and Jim Bolger, the renowned Irish horse trainer and breeder. Ground-breaking research at UCD, funded by Science Foundation Ireland, and led by Dr Hill resulted in the identification of what is now referred to as the 'Speed Gene'.
The announcement of the identification of the 'Speed Gene' in 2010, coupled with the launch of Equinome, has been transforming decision-making processes in the global Thoroughbred industry since then.
Between 2010 and 2015 Equinome, headquartered at NovaUCD, grew significantly and secured customers for its genetic tests (Equinome Speed Gene Test and Equinome Elite Performance Test) in over 15 countries with clients including top 5 global Thoroughbred operations.
In December 2015 Plusvital, the Irish equine nutrition company acquired Equinome.
During 2016 Plusvital announced the launch of an expanded range of genetic tests for the global Thoroughbred horse industry, including four (4) new tests.
Plusvital's newly expanded range now includes six (6) different genetic tests which evaluate over 48,000 genetic markers for an individual horse. Together these tests can provide Thoroughbred horse owners and breeders with information related to elite racing and breeding potential, optimum race distance, surface preference, height and inbreeding.
Plusvital's new genetic tests are; Dirt v Turf v1.0; Distance Plus v1.0; Elite Performance v3.0 and Raced/Unraced v1.0.
The company, which employs 20 staff, plans to employ 50 staff within the next 5 years. The company also plans to invest over €3.5 million in equine science research over the next 3 years. This research will result in the introduction of a range of new scientifically-supported equine products in genetics and nutrition, including the development of genetic tests to identify horses with a predisposition to health conditions.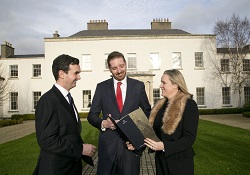 At the announcement of the acquistion of Equinome by Plusvital are (l-r); Donal Ryan, Equinome, Mike Shelly, CEO, Plusvital and Dr Emmeline Hill, Equinome
The Knowledge Transfer Initiative of the Year Award recognises a commitment to the continuous development within a TTO or ILO.
University College Dublin has been shortlisted for this Award, jointly with Trinity, for the establishment and launch of the €60 million University Bridge Fund.
The Fund, initiated in a joint leadership collaboration between UCD and Trinity, was established to invest in early-stage companies, with global potential, that are built from world-class research outputs generated at UCD, Trinity and at all Irish third-level institutions and universities.
The Fund, which is managed by Atlantic Bridge Capital, will provide capital and expertise to scale such companies into global markets. This Fund brings together significant institutional investment from the European Investment Fund, Enterprise Ireland, AIB, Bank of Ireland, UCD and Trinity.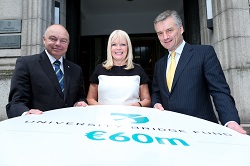 At the launch of the €60 million University Bridge Fund are (l-r); Professor Andrew Deeks, President, UCD, Mary Mitchell O'Connor TD, Minister for Jobs, Enterprise and Innovation; Professor Patrick Prendergast, Provost, Trinity.
Click here for complete shortlist for each award category.
Winners of the 2017 KTI Impact Awards will be announced at an Awards ceremony to be held on 30 March in Royal Hospital Kilmainham, Dublin.
ENDS
10 March 2017
For further information contactMicéal Whelan, University College Dublin, Communications Manager (Innovation), e: miceal.whelan@ucd.ie, t: + 353 1 716 3712.
Editors Notes
Knowledge Transfer Ireland is the national office that helps business to benefit from access to Irish expertise and technology by making it simple to connect and engage with the research base in Ireland. Knowledge Transfer Ireland enables companies to innovate their business by signposting to novel technology and research expertise in Ireland and by providing best practice guidance to simplify the process of accessing this rich source of opportunity. KTI is located in Enterprise Ireland (EI) and funded by Enterprise Ireland with co-financing from the Irish Universities Association. www.knowledgetransferireland.ie
At NovaUCD, the hub for new ventures and entrepreneurs at University College Dublin, we nurture and support new high-tech and knowledge-intensive companies as part of UCD's mission. At NovaUCD we provide purpose-built, state-of-the-art incubation facilities alongside a comprehensive business support programme for client companies. UCD's technology transfer team, which is responsible for the commercialisation of intellectual property arising from research and other knowledge-intensive activity at UCD, is also based at NovaUCD. NovaUCD has been funded through a unique public-private partnership that includes AIB Bank, Arthur Cox, Deloitte, Enterprise Ireland, Ericsson, Goodbody Stockbrokers, UCD and Xilinx. www.ucd.ie/novaucd
SHARE