VIDIRO Analytics – Keeping Brands Safe on YouTube
The British government, and many other organisations and companies, have recently started pulling advertising from Google due to ads allegedly appearing on what they deemed to be inappropriate content on YouTube.
This has catapulted the issue of 'brand safety' on YouTube, something that has been brewing for quite some time, into the broader public consciousness.
VIDIRO Analytics, an Irish award winning digital video performance engineering company, can deliver 100% brand safe campaigns with the company's YouTube campaign curation tools.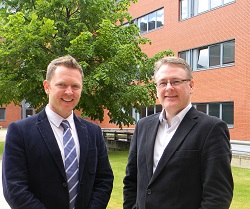 Pictured at NexusUCD are Simon Factor and Kevin Magee, co-founders, VIDIRO Analytics
Simon Factor, CEO and co-founder, VIDIRO Analytics, said, "With 300 hours of content being uploaded to YouTube every minute we help our clients to find the right videos of the moment to target and by default reverse target against the inappropriate videos that are also available to the same audience."
He added, "At VIDIRO we scan YouTube 24/7 to detect suitable videos for our clients to target that are contextually relevant and appropriate for their campaign. This provides confidence that ads will not be shown ahead of unsuitable content and delivers a significant increase in YouTube campaign engagement as the ad is contextually relevant to the video being shown."
He concluded, "Our AdRadar product enables advertisers to identify and track micro segments of video content on YouTube, persistently detect new content of this type and transfer this placement data into their YouTube ad buying operations delivering protection and high performance."
VIDIRO, which specialises in the discovery, development, and targeting of niche audiences for its clients, was co-founded by Simon Factor and Kevin Magee. The company is headquartered at NexusUCD, the Industry Partnership Centre at University College Dublin (UCD) and also has offices in London.
The company has been an active participant in Big Data research in Ireland for many years and is a founder member company of the industry-led Centre for Applied Data Analytics Research (CeADAR) which is also headquartered at NexusUCD.
"Being close to the heart of cutting-edge research at University College Dublin is important to us; as innovators and engineers we love to know what new things are happening in industry and how other companies are meeting Big Data challenges such as the issue of brand safety on YouTube," says Factor.
Simon Factor has recently posted a LinkedIn post on this topic entitled, Brand Safety on YouTube? (Ad) Buyer Beware!. The post is available via www.linkedin.com/pulse/brand-safety-youtube-ad-buyer-beware-simon-factor.
ENDS
24 March 2017
For more information contact Micéal Whelan, University College Dublin, Communications Manager (Innovation), e: miceal.whelan@ucd.ie, t: + 353 1 716 3712 or Simon Factor, CEO, VIDIRO Analytics, t: + 353 87 683 1176, e: simon@vidiroanalytics.com.
Editors Notes
VIDIRO is an international award winning video analytics company, specialising in advertising technologies. The company is based at NexusUCD, the Industry Partnership Centre at University College Dublin, in the heart of Big Data Analytics research, with offices in London, the heart of Big Advertising. www.vidiro.com
NexusUCD is the Industry Partnership Centre at University College Dublin. NexusUCD, is located in Belfield Office Park, Clonskeagh, adjoining the main UCD campus. It offers high-quality modern office space, with short, medium or long term occupancy arrangements, and associated services to established innovation-led companies who are collaborating, or wish to collaborate, with UCD's world-class research base. By locating at NexusUCD companies, such as VIDIRO Analytics, can benefit from close proximity to and interaction with UCD academics and researchers. www.ucd.ie/nexusucd
SHARE